MozillaHistoryView displays a list of recently visited webpages by reading the history data file of Firefox, Netscape, and Mozilla web browsers. It is a lightweight utility.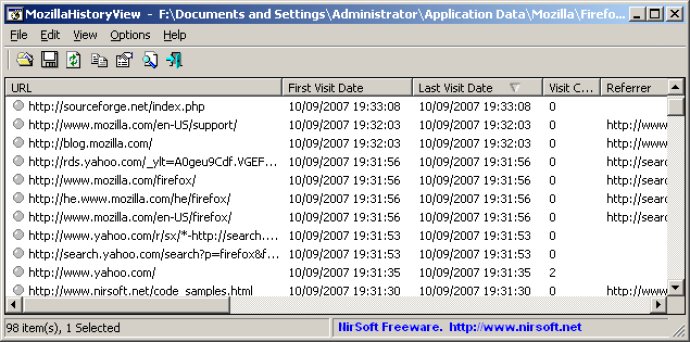 If you're looking for a reliable and efficient tool to manage your browsing history, MozillaHistoryView may just be what you need. This compact utility is designed to read the history data file (history.dat) of Firefox, Mozilla, and Netscape web browsers, and present a comprehensive list of all the web pages you have visited in the past few days.

With MozillaHistoryView, you can conveniently access vital information about each visited page. This includes details such as URL, first and last visit dates, visit counter, referrer, title, and hostname. The software allows you to sort and filter the results to make it easier to find the information you need.

Another convenient feature of MozillaHistoryView is its ability to export history data to text, HTML, or XML formats. Whether you're looking to create a backup or want to analyze the data in a different way, this tool makes it easy to do so.

In conclusion, if you need a fast and reliable way to manage your web browsing history, MozillaHistoryView is a great choice. It's simple to use, packed with useful features, and best of all, it's completely free. So why not give it a try today?
What's New
Version 1.70: N/A