Air Live Drive is a cloud storage management software that allows remote files to be accessed as local files without synchronization or local storage. It supports several cloud services, including Google Drive, OneDrive, Box, Mega, and WebDAV.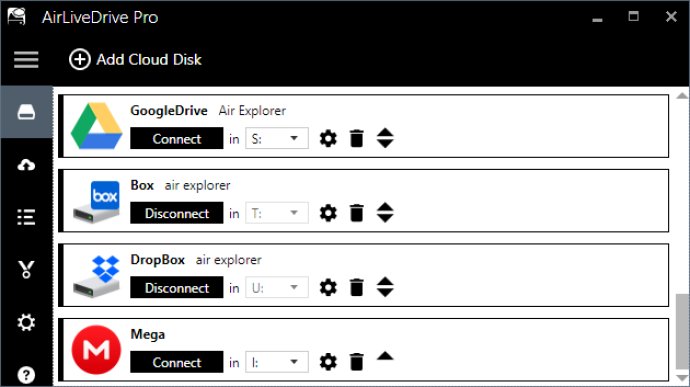 Air Live Drive is a powerful application that can help you to mount cloud drives as local disks on your computer. With this software, you can easily access your remote files without having to synchronize or use local disk space. This feature is incredibly useful for saving disk space on your computer and accessing your cloud files quickly.

One of the most significant advantages of Air Live Drive is that it supports many popular cloud services, such as OneDrive, OneDrive for Business, Google Drive, and Dropbox. In addition, it also supports others like Mega, Yandex, Naver, Hidrive, Mail.ru, WebDAV, Mail.com, Adrive, Magenta Cloud, Stack Storage, Datto Drive, and SFTP. This means that you can access your files stored in any of these cloud services without manually synchronizing them to your computer.

Another great feature of Air Live Drive is that it allows you to add multiple accounts from the same cloud. By doing so, each account you add becomes a virtual disk drive on your computer, making it possible to use different accounts for different purposes without confusion.

Using the Air Live Drive, you can work online without duplicating your clouds on your computer. As a result, you can save on disk space and reduce the amount of data that needs to be stored locally. The software mounts your cloud storages and opens remote files to work directly with files in the cloud, eliminating the synchronization process.

Overall, Air Live Drive is a game-changer for anyone who works with cloud storage. The ability to mount cloud drives as local disks and access remote files easily saves both time and disk space. The software supports a wide range of cloud services and allows you to add multiple accounts freely. If you're looking for a reliable way to access your cloud files, Air Live Drive is perfect for you.
What's New
Version 1.5.2.: N/A