AlphaPlugins Laplacian Blend is a free Adobe Photoshop plugin that uses the Laplacian pyramid to blend pictures containing natural objects like hair, grass, bushes, and human faces, resulting in seamless integration.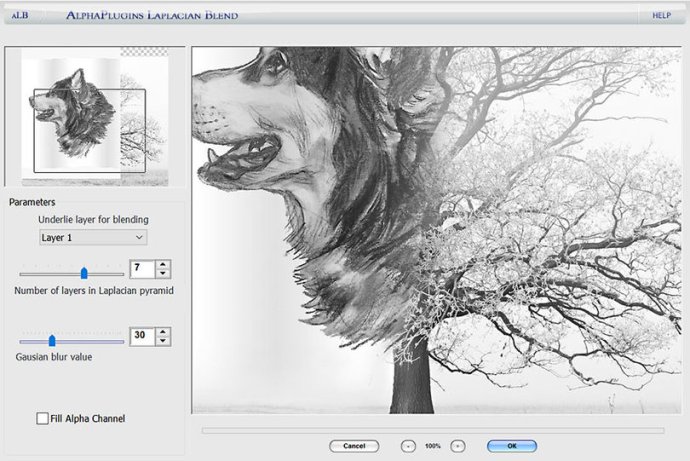 AlphaPlugins Laplacian Blend is a must-have software tool for Adobe Photoshop users. This free plug-in provides a sophisticated algorithm that easily blends two images achieving superior quality results compared to traditional blending tools.

The Laplacian Blending feature allows for mixing different parts of the source images in a different way. The parts of the images with low-frequency details are mixed strongly, while the ones with high-frequency details are mixed less. This results in images that look like they are interwoven and permeated each to each.

This method is particularly helpful when accurately blending images that contain natural objects like grass, hair, bushes, human faces, and more. While the Laplacian Blending method is commonly known and found in special math libraries, it was not previously available to Photoshop users until AlphaPlugins introduced this free plug-in.

Some of the main features of AlphaPlugins Laplacian Blend include its unique, convenient and powerful tool for blending two images using Laplacian Blending. This tool can also organically work in multilayer Photoshop's composition and supports native Photoshop image modes such as Grayscale, RGB, and CMYK.

The user interface of this plug-in is modern, powerful, and efficient, making your workflow a breeze. Best of all, AlphaPlugins Laplacian Blend is completely free. Don't miss out on this incredible tool that can take your image blending to the next level. Get it now and enjoy its many benefits!
What's New
Version 1.0: The first release of the new product