AnyErase is an image editing software that deletes watermarks, logos, people, and objects from pictures, and replaces them with surrounding pixels. It offers a one-click option to remove the photo background. Users can upload their photo and receive a perfect cutout.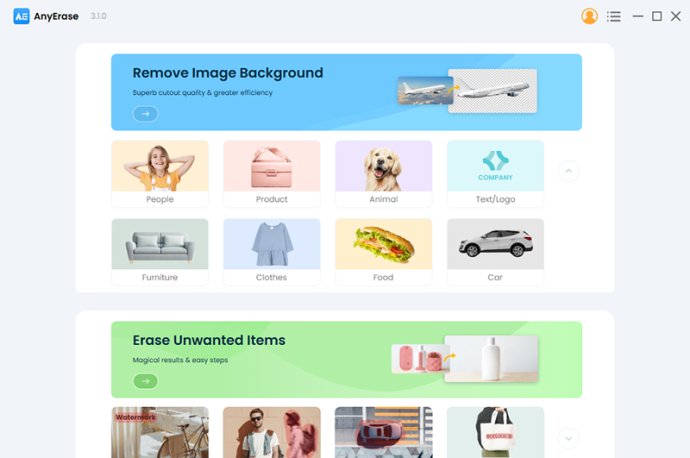 If you're tired of the tedious process of photo editing, AnyErase is a professional watermark eraser and background remover that can save you time and frustration. Utilizing advanced AI technology, AnyErase makes the process of removing watermarks and backgrounds seamless and efficient, delivering high-quality results in no time.

As a watermark remover, AnyErase offers rectangle and brush tools to ensure precise and accurate removal. The rectangle tool allows for easy selection of unwanted items such as objects, people, text, logos and more. AnyErase then detects and deletes all selected items instantly, leaving you with a fantastic result. Additionally, the brush tool allows for further retouching and ensures that no unwanted pixels remain, providing a natural-looking photo. Whether you're removing someone from a photo or eradicating undesired text or objects, AnyErase is your go-to software.

Aside from watermark removal, AnyErase is also an expert in background removal. Manually making a background transparent is often complicated and time-consuming, but with AnyErase, the AI technology takes care of everything for you. The software intelligently identifies the subject within the photo, seamlessly removing the background while leaving a finely-tuned cutout. With eight cutout modes to choose from, AnyErase allows you to remove the background from people, products, animals, cars, and more, making it the perfect tool for e-commerce, photography, social media, website projects, or personal use.

In short, AnyErase is a must-have software for anyone who needs an efficient, easy-to-use, and reliable watermark eraser and background remover. The use of AI technology transforms the photo editing process and ensures high-quality results every time.
What's New
Version 3.4.0: 1. Remove watermark from image
2. AI technology to make the background transparent
3. Remove background from image
4. Provide 8 cutout mode options to remove bg
5. Memory performance increased by 40%
6. Solving playback & display problems, improving overall fluency & stability
Version 3.3.0: 1. Remove watermark from image
2. AI technology to make the background transparent
3. Remove background from image
4. Provide 8 cutout mode options to remove bg
5. Memory performance increased by 40%
6. Solving playback & display problems, improving overall fluency & stability
Version 3.2.0: 1. Remove watermark from image
2. AI technology to make the background transparent
3. Remove background from image
4. Provide 8 cutout mode options to remove bg
5. Memory performance increased by 40%
6. Solving playback & display problems, improving overall fluency & stability
Version 3.1.0: 1. Remove watermark from image
2. AI technology to make the background transparent
3. Remove background from image
4. Provide 8 cutout mode options to remove bg
5. Memory performance increased by 40%
6. Solving playback & display problems, improving overall fluency & stability