AnyMP4 Data Recovery is a powerful software that enables users to recover lost files such as documents, photos, videos, audio, and emails from various storage devices including computers, memory cards, and flash drives. The tool allows easy recovery with just one click and supports Windows operating system.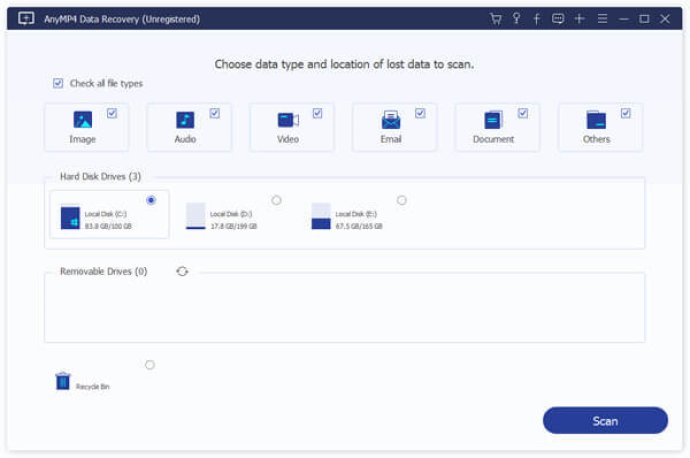 If you are looking for a reliable data recovery software, then AnyMP4 Data Recovery is the tool you need. This program can help you recover lost data from various situations such as system re-installation, re-partition, and more. It is a safe data recovery tool that can rescue your files without causing any damage to your computer.

With just one click, you can scan different types of data on your computer. AnyMP4 Data Recovery can recover lost text files like Word, Excel, PowerPoint, PDF, XML, RTF, HTML, TXT, media files like photo, video, audio, as well as other data like e-mail and database. It can rescue all kinds of data, making it a complete solution for your data recovery needs.

AnyMP4 Data Recovery is equipped with several key functions that enhance its capabilities. First, it can recover data from different situations, such as system crash, hard drive problem, virus attack, and more. It is a professional recovery tool that can handle various data loss scenarios.

Secondly, the program includes two scan modes, quick scan, and deep scan. If you cannot find lost files in the preview window, you can try 'Deep Scan', but it will take more time. You can choose the scan mode based on your needs.

Thirdly, AnyMP4 Data Recovery is straightforward and easy to use. It owns a 'Filter' feature that can help you find the exact files quickly. You can find the lost or deleted files by type list or path list to preview or save data on your computer. Besides, the program has a fast speed, so you can recover your data quickly.

Overall, AnyMP4 Data Recovery is an excellent tool that can help you recover lost data in various situations. It is a versatile software that is easy to use and has fast speed. If you need to recover lost data, then this program is worth considering.
What's New
Version 1.1.28: 1. Update kernel and add setting window.
2. Fix some bugs and optimize the product.
Version 1.1.26: Fix some bugs.
Version 1.1.22: Fix some bugs.
Version 1.1.20: Add ceip management.
Version 1.1.16: 1. Modify the problem of poisoning;
2. Merge and modify the special character path problem;
3. Remove the multi-thread download function.
Version 1.0.6: New program