"anyQuery" is a user-friendly yet robust software designed for developers and administrators to create and evaluate database queries.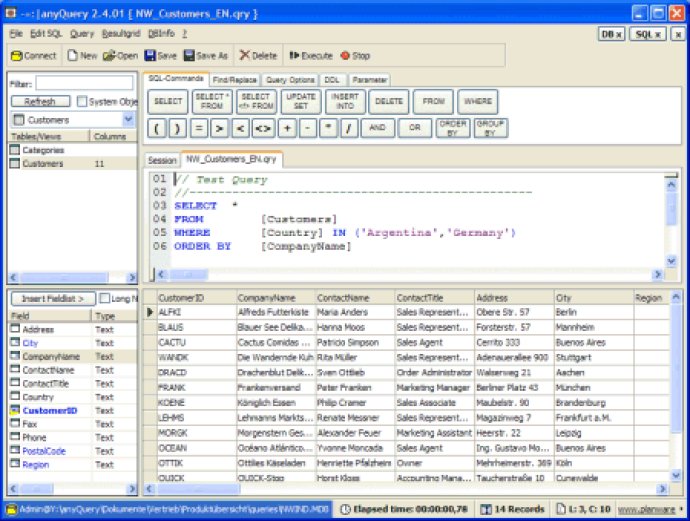 If you are a database developer or administrator, anyQuery is the tool you need for building and testing queries. This user-friendly software simplifies the entire process of creating SQL statements with the help of the database explorer and the SQL toolbox.

The software displays all your query results in a flexible grid that allows for column sorting, grouping, and printing of reports. You can even drag the data into other applications like Microsoft Excel for further analysis. Exporting database information, such as field names, data types, tables, and views, is also possible in text files.

AnyQuery can handle large queries with ease, thanks to its syntax coloring and comment features. All these features make data analysis and manipulation a breeze, as the software excels in providing an excellent user experience.

The software has a range of features that enhance its usability. With the database explorer, you can view all your database tables and views. The SQL toolbox simplifies frequently used SQL keywords, while syntax coloring and formatting make large queries simple to handle.

Besides, you can work with as many queries as you want simultaneously. Exporting query results to a text file or XML is possible using the software's drag and drop feature. AnyQuery's simple report writer means you can easily generate reports that are flexible to your needs.

In conclusion, anyQuery is a powerful database tool that simplifies building and testing queries. Its feature-packed toolbox and database explorer make working with queries effortless, and its flexible grid and reporting tools provide accurate results. Overall, anyQuery is a must-have tool for any database developer or administrator seeking to simplify query building and testing.
What's New
Version 2.1.17: N/A