AOMEI Partition Assistant Standard is a free partition manager software that offers advanced functions like resizing, moving, and copying partitions. This software provides features similar to commercial partition software.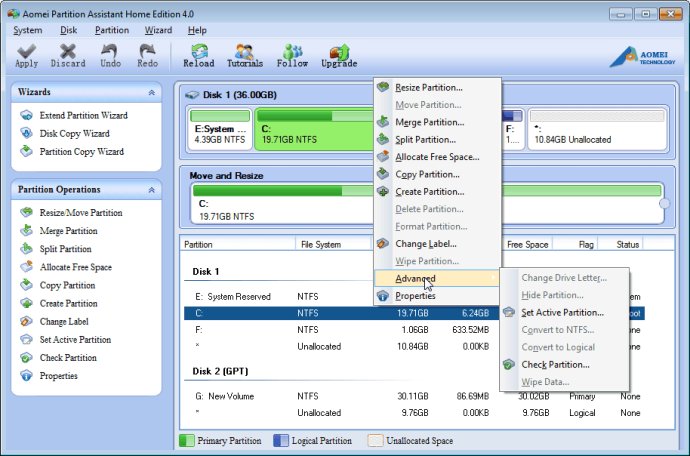 If you're looking for a comprehensive and free partition manager software for Windows, AOMEI Partition Assistant Standard Edition might be a great option for you. It is compatible with various Windows OS versions such as Windows 2000/XP/Vista/Win7 and the latest Windows 8. This software enables users to conduct more complicated partition operations on their hard disk without the need for commercial partition software.

With AOMEI Partition Assistant Standard Edition, users can resize/move, extend/shrink, quickly allocate free space, create, delete, format, convert primary to logical and vice versa, hide partitions, copy/clone disk, copy/clone partition, wipe hard drive/partition, disk surface test, and repartition hard drive without losing data. The software's built-in three wizards (Extend Partition Wizard, Disk Copy Wizard, and Partition Copy Wizard) simplify the process and allow users to achieve their goals promptly.

What makes this software convenient is its user-friendly interface, which makes it easy for common users to acquire more advantages in disk partition management. The Standard Edition also supports businesses, enabling them to utilize it in their small companies or help others solve partition problems.

In conclusion, AOMEI Partition Assistant Standard Edition is a multifunctional and user-friendly software that can help users manage their hard disks in a hassle-free manner. It's an excellent choice for both personal and business use.
What's New
Version 4.0: The updated version 4.0 supports to merge/split partition, allocate free space, convert between primary and logical partition. It supports USB flash drive, GPT disk and disk capacity up to 4TB. Compatible with Windows 8 and 64bit Windows 7/Vista.