Apps4.Pro combines Microsoft Planner and Outlook by synchronizing Planner tasks with Outlook calendar and tasks.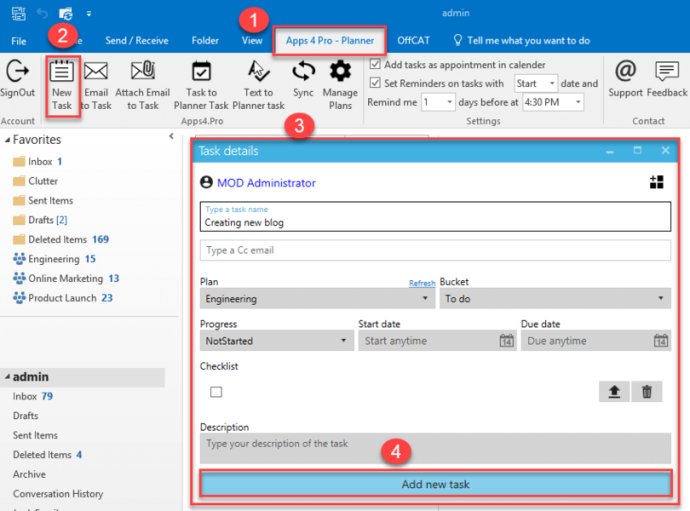 Apps4.Pro Planner is a highly effective Outlook add-in that provides a wide range of features to make your life easier. It seamlessly integrates with your Outlook application and offers Planner functionality for the best user experience. With this add-in, you can manage Planner tasks directly from your Outlook with ease. The add-in simplifies the management process by syncing Planner tasks with Outlook tasks and calendar, complete with reminders for each task.

With the development team keeping user difficulties in mind, the add-in simplifies the integration process and adds a feather to your hat. Here are some of the many benefits of using Apps4.Pro Planner:

Integration with Outlook tasks – Apps4.Pro Planner integrates with your Outlook tasks, allowing tasks assigned to users to sync automatically.

Create new task from email in Outlook – Easily convert your email to Planner tasks and set due dates, assign individual users, and track status updates directly from your Outlook account.

Outlook tasks to Planner tasks – Quickly convert Outlook tasks to Planner tasks with just one click, allowing you to manage personal tasks with ease.

Set reminders for Planner tasks – Synchronize Planner tasks with your Outlook calendar and set reminders to avoid missing any critical tasks.

Access Planner tasks from Outlook – Check the status and progress of tasks within your Planner directly from your Outlook account.

Task templates to create Plan and Tasks – Create Excel sheets with predefined tasks and use them as templates to make new tasks within a plan.

Import/Export tasks from Excel – Use Excel to export tasks from one plan and import them into a brand new plan. Easily create new plans from scratch.

Group tasks by Bucket/Progress, etc. – Effectively categorize and visualize the progress of your tasks by bucket or progress status.

In conclusion, Apps4.Pro Planner is an invaluable addition to any Outlook user's toolset that can provide a significant boost to productivity. The add-in simplifies management functions and allows users to do more in less time while ensuring that nothing slips through the cracks. With its seamless integration and powerful features, this Outlook add-in is an excellent tool for anyone serious about streamlining their workflow.
What's New
Version 1030: N/A