Artfolio Creator simplifies the process of creating digital artwork portfolios for high-quality gallery and magazine submissions. Its ease of use allows you to create portfolios showcasing your art and export them as PDF, burn to a CD, or send via email.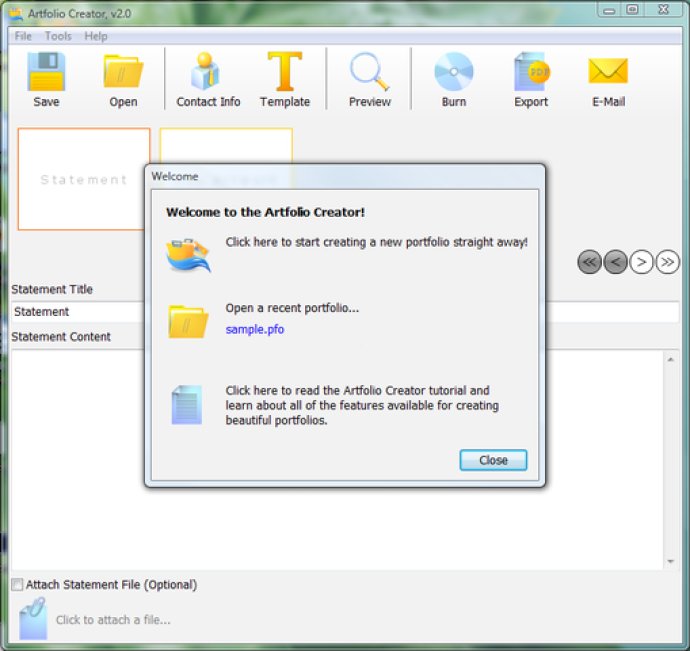 I recently got a chance to try out Artfolio Creator, a digital portfolio creator designed to help artists showcase their work in a professional and easy-to-use manner. This software easily creates digital portfolios that can be burnt to CDs, sent as email attachments or exported as PDF files to print out later.

The program is very user-friendly, making it a great tool for artists to create high-quality submissions for galleries or magazines. The Artfolio Creator offers various features like the ability to add personal details, resume and artist statement. Users can add images of artwork and crop, rotate, and flip those images. The software integrates with Google Picasa for easy access to photographs.

Moreover, the program offers different portfolio templates to choose from, allowing users to preview their portfolio as they create them. Works can be saved for later, and there is no configuration required, so users can easily burn their portfolios to CD with just one click. It is also possible to email portfolios to anyone in the entire world using the software's built-in email feature.

One of the greatest things about the Artfolio Creator is the ability to customize templates with the built-in template editor. Users can customize templates to suit their preferences and create unique portfolios. The software also offers automatic online updates that come with new features and templates.

In conclusion, Artfolio Creator is a must-have for any artist searching for a reliable and user-friendly digital portfolio creator. The program offers excellent features, ease of use, and templates, making it the perfect software for creating stunning digital portfolios.
What's New
Version 2.0: A new Template editor allows you to customize all of the templates. 13 new Templates are included. You can E-Mail portfolios from within the application with one click.
Version 1.2: N/A
Version 1.1: N/A