Aryson Email Archiving Tool is a Windows-based software that helps users archive web or cloud-based emails into various file formats on their hard drives. The demo version is free, with a limit of 50 email items.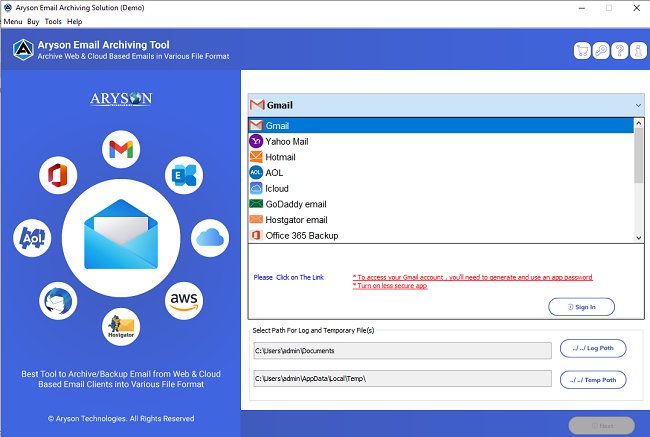 The Aryson Email Archiving Tool is a powerful software that is highly recommended for archiving emails from cloud-based email clients onto your desktop or hard drive. This software comes with a host of excellent features that make it user-friendly for emailing clients who need to archive emails. With the ability to archive emails in various file formats such as PST, EML, MSG, PDF, MBOX, EMLX, TXT, and others, this tool is truly versatile.

What sets the Aryson Email Archiving Tool apart is that it supports various email clients for archiving mailboxes, including popular services like Office 365, Gmail, Hotmail, Yahoo, Zoho, AOL, Amazon Webmail, Yandex, OperaMail, Thunderbird, IMAP Server, Live Exchange Server, iCloud, HostGator, and GoDaddy. With this software, you can download all emails to your desktop based on specific date ranges by using the date filter options.

Another significant benefit of this tool is that it lets you schedule the backup of mailboxes according to your requirements. This software is compatible with all platforms of Windows OS for archiving email from cloud email clients. The free version of the Aryson Email Archiving Tool allows you to archive up to 50 email items from each folder of web or cloud-based email clients. However, if you want to complete a backup of your email clients, then you can use the paid version of this software.

In conclusion, we highly recommend the Aryson Email Archiving Tool for archiving your emails from cloud-based email clients. Its user-friendly interface and versatility make it a must-have for anyone who needs to archive emails regularly.
What's New
Version 23.4: Supports up to 20+ Cloud Based Email Clients for Email Archiving
Version 21.9: Supports Up to 15 Cloud Based Email Clients for Email Archiving