Aryson Email Migration Tool exports emails and data files to various file formats and email clients. It's a reliable solution for prosperous email mailbox data migration.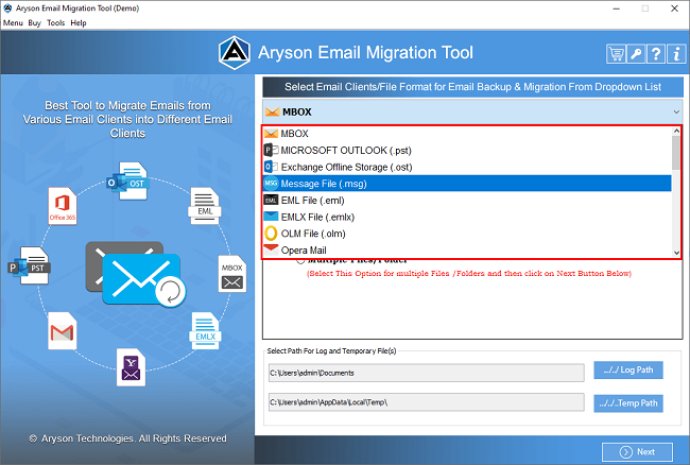 I recently tried Aryson Email Migration Software and I must say that it's one of the most reliable and safe software for migrating mailbox emails into multiple file formats. With this tool, you can easily migrate emails of email accounts into popular email clients such as Gmail, Yahoo Mail, Office 365, Amazon Webmail, and more.

One of the best features of this software is that it ensures that there are no data losses during the email migration process. With the help of the Aryson Email Migration Tool, you can easily restore mailboxes from single or multiple emails into various file formats or email clients in a single go, without any type of data loss. This means that it is capable of migrating several mailboxes into a single attempt with high accuracy.

The software is highly compatible and runs smoothly on all versions of Windows OS. It allows you to migrate an account email on all versions of Windows, including Windows 10 and other earlier versions. Additionally, this software has no file size limitations.

One unique feature of this tool is that it allows you to preview all attributes and attachments of the email mailbox before migration. Users can also save the email attachments of the email separately when they save them into a PDF format. This Aryson Email Migration Software offers an amazing Mail Filter option that allows users to filter emails based on their date. By using this feature, users can save the required emails to be converted into other file formats.

Furthermore, users are allowed to resume the process of uploading from the endpoint where the connection breaks, thereby eliminating the need to restart the process or reprocess the files. The software also has the facility to remove duplicate emails from the backup process.

Before purchasing this software, users can test it out by downloading and testing the demo version of the tool. Overall, I highly recommend Aryson Email Migration Software for all your email migration requirements.
What's New
Version 21.4: Software Runs with All Windows OS Platforms