Aryson Image Converter is a versatile software that effortlessly converts images to various file formats, including PDF, PNG, GIF, JPEG, WEBP, DOC, DOCX, and more. It efficiently processes single or multiple images in bulk, preserving their original quality, including large-size images.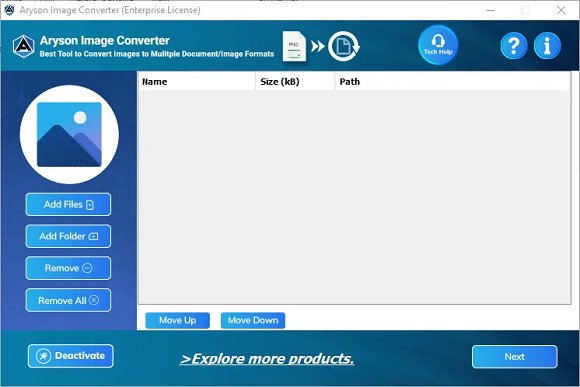 Aryson Image Converter is a highly recommended software for those in need of a reliable tool to convert images to any file format. This software excels in maintaining the original quality of the images while changing their file extensions. One of the standout features of the Image Converter Software is its seamless ability to convert images between different file formats. Whether you need to convert JPEGs to PNGs, GIFs to TIFFs, or any other combination, this software has got you covered. It effortlessly converts PNG, JPEG, JPG, JFIF, WEBP, BMP, and HEIC images.

With Aryson Image Converter, users have a wide range of options to convert images to other file formats such as PNG, JPEG, PDF, DOC, DOCX, HTML, TIFF, SVG, WEBP, GIF, and more. Before beginning the conversion process, users can easily check the file details like name, size, location, etc. This software offers a user-friendly interface that caters to both novice and professional users alike. Users can rest easy knowing that their converted images will retain their clarity and color accuracy. Additionally, users have the ability to set the height and width of the images.

The software also provides smart features and filters that allow users to customize the conversion process according to their specific requirements. Aryson Image Converter is compatible with various Windows versions including Windows 11, 10, 8.1, 8, 7, and earlier. Additionally, it also offers free demo versions that allow users to convert up to 50 images without any cost. Overall, Aryson Image Converter is an excellent software choice for anyone in need of a powerful and user-friendly tool for image conversion.
What's New
Version 23.05: New launch of Aryson Image Converter Software