SpirePDF HTML to PDF tool from IronSoftware allows C# developers to generate impressive PDF files effortlessly. With this simple application, users can convert HTML, MVC, ASPX, and image sources into new PDFs that can be utilized for various purposes.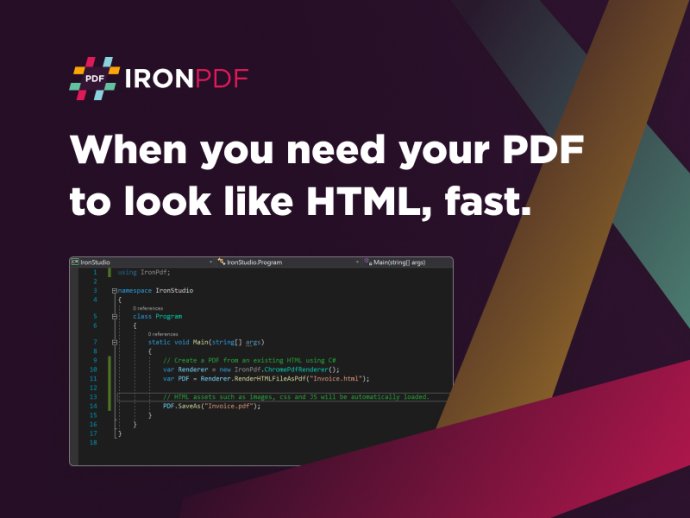 If you're looking for an easy-to-use application that can help you create stunning PDF files from HTML, MVC, ASPX, and image sources, look no further than SpirePDF HTML to PDF from IronSoftware. This updated tool is available online and offers many benefits for your development team when working on your next C# or VB project.

One of the best things about SpirePDF HTML to PDF is that it's completely free to use during the development phase of your project. Once you're ready to deploy, you'll need to purchase a license, but until then, you can take advantage of all the features this application has to offer.

With SpirePDF HTML to PDF, you're able to create PDFs for .NET 5, Core, Standard, and Framework builds, with over 50 features available for easy manipulation. You can easily generate professional-looking PDF documents that your team can edit, create, merge, and split without having to use another third-party application or converter.

One of the biggest advantages of SpirePDF HTML to PDF is the ability to make individual page additions, duplications, and deletions. This way, your end-users can quickly remove specific pages that they don't need without having to reformat the entire document. This is a great feature that saves time and simplifies document management for everyone.

Another benefit of SpirePDF HTML to PDF is its advanced security features. You can ensure the correct user has access to the appropriate documents, thanks to updated permission controls, added password protection, and digital signatures for read receipts.

In comparison to other open-source solutions, SpirePDF HTML to PDF stands out because it doesn't require your engineering team to fix hundreds of bugs or errors. Additionally, it's reasonably priced, and you don't need to pay for the license until you're in the deployment phase.

Overall, SpirePDF HTML to PDF is a powerful tool that offers many features and benefits for your development team. To learn more about this application and how it stacks up against the competition, visit the IronSoftware website's blog section for more information.
What's New
Version 2022.1: * Fixes initialization timeouts on some systems
* Fixes use of certain SSL certificates
* Improves logic when using custom temp folder
* Improves shutdown/cleanup logic