Aryson Yahoo backup software easily converts emails into multiple file formats and migrates them directly to Gmail, Thunderbird, Office 365, IMAP, & Outlook.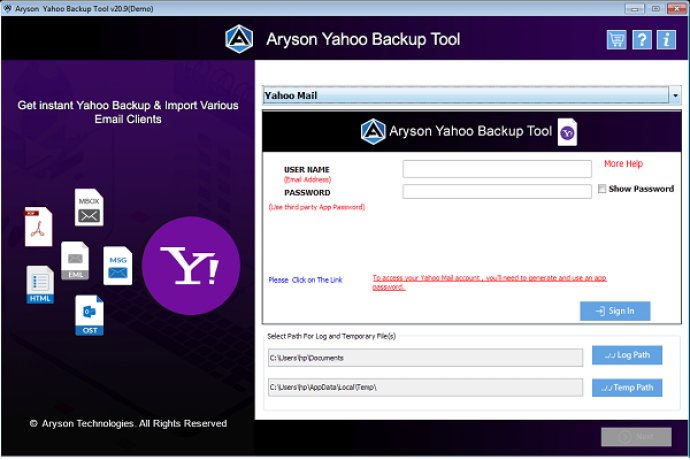 Aryson Yahoo Backup Tool is an incredibly effective software designed to backup Yahoo mail data. With this tool, users can save their emails into various file formats including MBOX, PST, MSG, PDF, TXT, HTML, MHT, and more. The Yahoo Backup software also allows users to migrate to other email clients such as Gmail, Outlook, Thunderbird, Zimbra, and IMAP with ease. Additionally, it efficiently exports data from Yahoo to Gmail without any difficulties.

Another significant feature of the Aryson Yahoo Backup tool is its ability to backup additional mailbox data, including attachments. This tool seamlessly saves all data into the resulting file format, allowing users to retrieve their data with ease. The Mail filter feature allows users to select the date range and sort email items by providing start and end dates according to a specific timeframe.

Compatibility is not an issue with Aryson Yahoo Backup Tool since it supports almost all major versions of Windows. It is also compatible with all the files and folders of each version of Yahoo mail. This tool helps users export mail items of a Yahoo profile to another Yahoo profile without any hassle. All users need to do is provide the login credentials and click on the login button.

Aryson Yahoo Backup Tool also generates a Log file that stores information about the entire process, including all conversion processes. Users can also convert desired mailbox items to a specific location with ease. This software is proficient in maintaining the folder hierarchy and keeps all data intact throughout the backup process, thus maintaining the integrity of data.

Overall, Aryson Yahoo Backup Tool is an excellent software choice for anyone in need of a dependable backup option for their Yahoo mail data. Its wide range of features, compatibility, and ease-of-use make it an ideal choice for professionals and casual users alike.
What's New
Version 20.9: Save Yahoo Email Backup to Various File Format & Email Clients