AtomicRobot Mister Take-A-Note is efficient note-taking software. Users can effortlessly save and search notes on multiple pages, with the option to label each page for quick retrieval. The software supports up to 10 pages and permits labeling with up to 12 characters.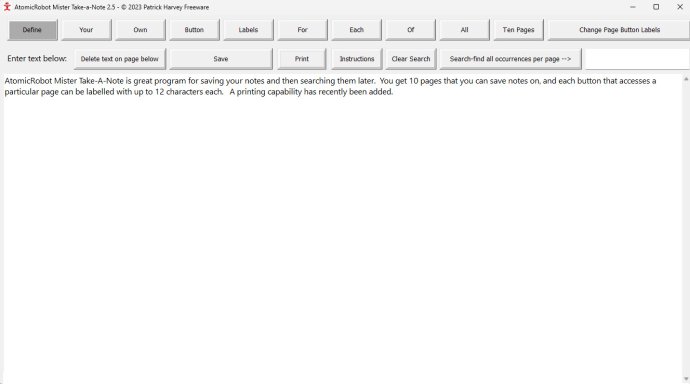 The AtomicRobot Mister Take-A-Note software is a fantastic tool for those looking to save and search their notes. With 10 pages available for saving notes, you have ample space to keep track of all your important information.

Additionally, each button that accesses a particular page can be labeled with up to 12 characters, making it easy to find exactly what you're looking for. One of the best features of this program is its simplicity. It's great for keeping track of information that you need to reference over and over again without any hassle.

Additionally, the program is completely free to use, so you don't have to worry about any hidden fees or charges. Getting started with AtomicRobot Mister Take-A-Note is incredibly easy. Simply save the executable in a place where you have full read/write rights, and run the program. It's that simple!

Finally, the developers have added printing functionality to the software, making it even more versatile. Whether you need to share your notes with others or simply want a hard copy for your records, printing is now a breeze.

Overall, I highly recommend AtomicRobot Mister Take-A-Note for anyone in need of a reliable note-taking and retrieval software.
What's New
Version 2.5: Printing capability and program resizing recently added.
Version 2.0: Printing capability recently added.