Cerberus FTP Server is a reliable and secure software designed for file transfer. It caters to both IT professionals and casual file-sharers and supports FTP, FTP/S, SFTP, and HTTP/S.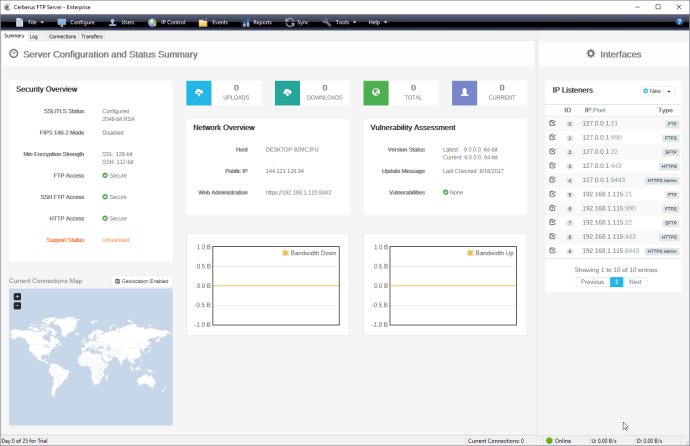 Cerberus FTP Server is an industrial-strength software that provides secure encryption and impressive performance for both IT professionals and casual file sharers. With a powerful suite of features, Cerberus supports a variety of protocols, including FTP, FTP over TLS/SSL (FTPS and FTPES), SSH2 File Transfer Protocol (SFTP), and web client access over HTTP and HTTPS.

Designed to be resource-efficient, Cerberus is easy to manage and configure, with support for Active Directory and LDAP authentication setup. It can operate as a standalone program or as a Windows service, with native x64 support for better performance. With robust security and integrity controls, Cerberus allows for failed file transfer recovery and includes a user-access manager for controlling access to files and operations.

Administrators can control connection limits, timeouts, security features, and IP-level access, as well as many other settings. The software offers comprehensive statistics on connections and supports robust logging capabilities. With Cerberus FTP Server, users can share files securely and efficiently, with a powerful toolset that addresses both IT professionals and casual users' needs.
What's New
Version 12.7.4.0: 2 Factor Authentication, File Retention policies, improved HTTPS web client, new web and desktop Event Manager, scheduled tasks, HTTPS upload resume