The Christmas Countdown screensaver is a Windows and Mac software that displays a flip-clock style countdown along with waving Santa Claus, two elves, Rudolph, a tree, and other Christmas items. It helps users count down the days, hours, minutes, and seconds until Christmas Day.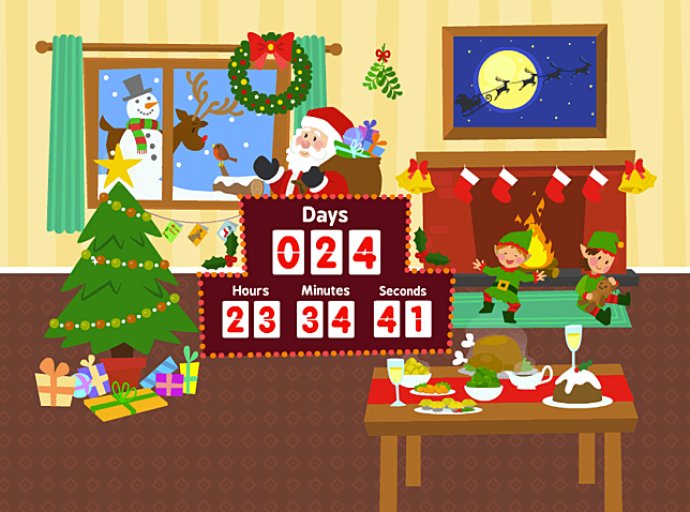 Are you getting into the festive spirit yet? Look no further for a delightful software solution to keep you in the countdown mood. Introducing the Christmas Countdown screensaver, available for both Windows and Mac. This screensaver boasts a flip-clock style countdown, complete with the jolly man himself - Santa Claus - perched just behind it.

But that's not all! The backdrop to this countdown clock is set in a cozy room, complete with a Christmas tree, crackling fireplace, two busy elves, a piping hot Christmas meal, and a snow-covered scene outside the window featuring everyone's favourite reindeer, Rudolph.

As the clock ticks away, anticipation builds, until finally the day arrives. Santa waves a 'Merry Christmas' banner, and the elves quickly inspect the presents and feast. Once the countdown is complete, the screensaver returns to its original state, and the countdown for the following year can begin anew on January 1st.

Not only is this screensaver beautifully animated, it is also fully equipped with an installer and uninstaller. You can even preview the screensaver before installation, to ensure it is the perfect addition to your computer desktop. What's more, you can enjoy the countdown to Christmas without any pesky advertisements or malware.

In short, there's something magical about having this screensaver on your computer during the countdown to Christmas. So why not add it to your collection of holiday software today?
What's New
Version 1.0: Initial release