Cisdem ContactsMate is a macOS software that helps to analyze, report, and fix various issues related to OS X Contacts. It enables users to export their Mac Address Book to various formats for backup or sync purposes. ContactsMate can also create contact groups, batch fix similar contact issues, and manually set suffixes.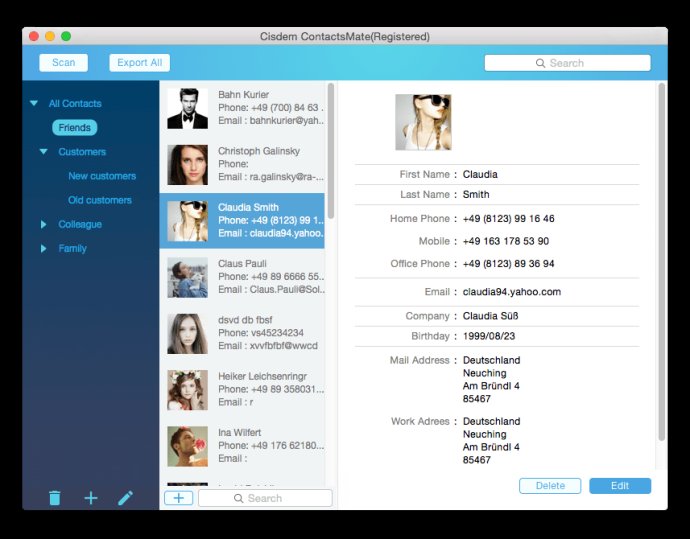 Cisdem ContactsMate (formerly known as ContactManager) is an impressive contacts management software for Mac that is capable of backing up, editing, finding, analyzing, reporting, and fixing a myraid of problems with OS X Contacts. This software tool can export Mac Address Book to various formats like CSV, vCard, TXT, Docx, HTML, Excel, Numbers, and Pages for effortless contacts backup or sync.

The software tool packs a few new features that enhance its functionality. Firstly, you can make groups for contacts, thereby organizing them into separate categories based on your preferences. This feature enables you to find the given contact(s) more efficiently and promptly. You can create groups such as family, friends, colleagues, clients, or even work contacts, and the option is endless.

Secondly, batch fix similar problematic contacts. Now that you've found and sorted the problematic contacts, you can execute bulk modifications on similar questionable contacts or choose to neglect the issues at your discretion.

Thirdly, manually set suffix and prefix. You have the freedom to add or remove suffixes and prefixes that are available to you to enhance the precision of problems scanning. Besides, you can add suffixes and prefixes in your language, which is particularly helpful for non-English speaking users.

Cisdem ContactsMate is a software application that has auto-sync features with Mac OS X Address Book. This function makes it effortless for you to sync your contacts data from various sources.

You can scan your contacts with 14 conflicts such as Duplicate Contacts, Incomplete Name, Invalid Characters, Unusual Title, and others. The software tool sorts similar concerns into a group and provides possible solutions for you to review, fix, or even remove the duplicates. Additionally, Cisdem ContactsMate supports various output formats like CSV, vCard, TXT, Docx, HTML, Excel, Numbers, and Pages. This feature makes it easy for you to select your preferred format for backing up or syncing your contacts.
What's New
Version 3.1.0: Improve some working performances, especially the searching performance for over 10,000 contacts.