ClickCharts Free Flowchart for Mac allows users to create flowcharts, organizational charts, UML diagrams, and data flow and value stream diagrams. The software also helps identify bottlenecks for process optimization. Users can export their charts to various formats including JPG, GIF, and PNG.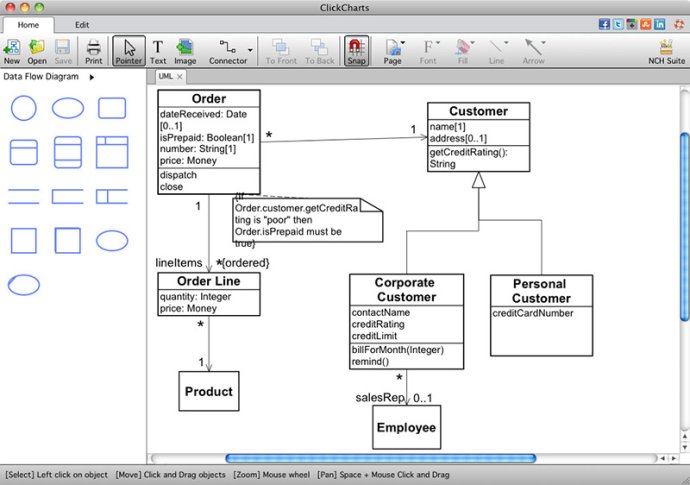 Are you looking for a free software where you can easily design flowcharts and diagrams? Look no further than ClickCharts FlowCharts Free for Mac. This software allows you to quickly create strong visuals of any organization, process, mind map, UML diagram and more.

With ClickCharts FlowCharts Free for Mac, you can map out your value streams and data flow with ease. Not only that, but you can also find bottlenecks in the process and ways to optimize productivity for your organization or project.

One of the best things about this software is that it allows you to jump start the process with template options or start fresh with your choice of shapes, symbols, line connector styles, and more. You have complete control over the look of your diagrams, which makes it perfect for businesses, students, or anyone who needs to create visual representations.

Additionally, ClickCharts FlowCharts Free for Mac supports multiple diagrams and allows you to edit them simultaneously. It also enables you to print large diagrams with seamless sheet overlapping. If you need to share your flowcharts with others, you can export them as image files such as jpg, gif, png, and more.

Overall, ClickCharts FlowCharts Free for Mac is an excellent software for anyone who needs to create diagrams easily and quickly. It's easy to use, versatile, and best of all, free!
What's New
Version 3.04: New Release