Effortlessly review, convert, and import transactions into accounting software with a secure solution. Convert CSV/XLS/XLSX to QBJ and seamlessly import into QuickBooks. Quickly prepare transactions in Excel and easily convert with this user-friendly software.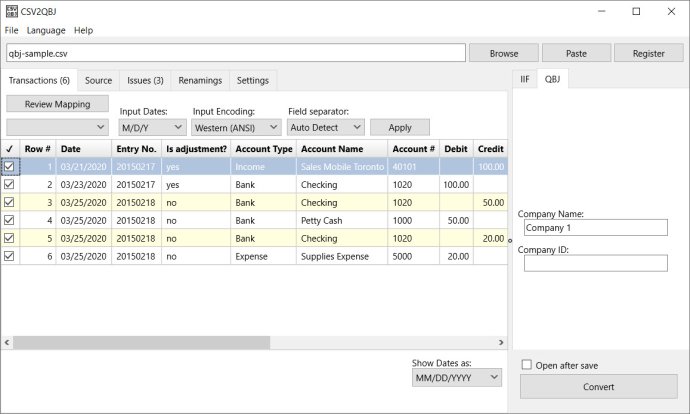 Looking for an easy-to-use, secure solution to review and convert your transactions before importing them into your accounting software? Look no further than our latest software review!

With this software, you can easily convert CSV, XLS, or XLSX files to QBJ and then import them directly into QuickBooks. Additionally, you can extract transaction data from your bank in either CSV or Excel formats and quickly prepare transactions right in Excel before converting them to QBJ.

The software also allows you to work directly in Excel and copy data into the converter for the easiest possible conversion. You'll be able to open files in any of the supported formats and even review transactions in a readable view before converting them.

If you're not sure whether this software is right for you, there's no need to worry. A free trial is available with up to 10 transactions per file converted, and support is available both before and after purchase.

If you do decide to make the purchase, you can do so with confidence knowing that a money-back guarantee is provided for 14 days. Best of all, this software can save you valuable time and help you avoid data entry and manual errors. Try it out today and take your accounting to the next level!
What's New
Version 4.158: Maintenance release