This software quickly and securely converts and reviews transactions, importing them into popular accounting software such as Quicken. It supports OFX to QFX conversion and enables users to preview transactions before converting. Compatible with multiple versions of Quicken on both Windows and Mac.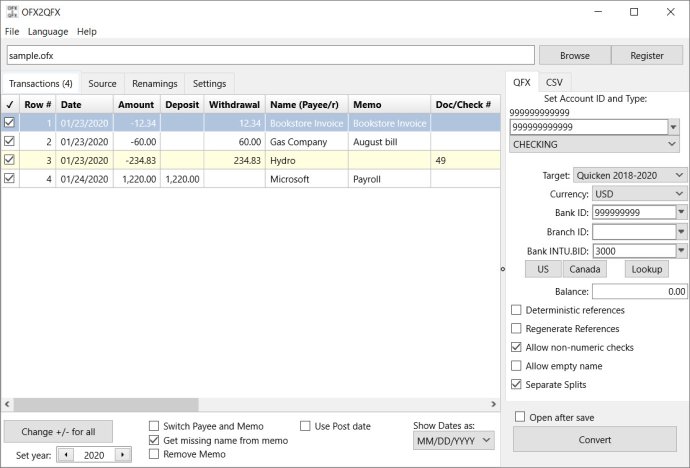 If you're looking for a solution to simplify the process of importing your financial transactions, look no further than this software. With the ability to convert OFX to QFX, you can quickly and easily import your data into Quicken 2020, 2019, 2018, or 2017, regardless of whether you're a Windows or Mac user.

Once you've created QFX files, they become regular Web Connect files for Quicken, so you can review your transactions after importing them just as you would if they had been downloaded directly from your bank. And to make things even easier, you can review your transactions in a readable view before converting them to ensure their accuracy.

For those who want to try the software before making a commitment, a free trial is available, allowing for up to 10 transactions per converted file with support both before and after purchase. And if you have any questions or issues with similar conversions, don't worry – the software provides access to both a knowledge base and a Question and Answers page where you can connect with developers and other users for help.

So why wait? With a 14-day money-back guarantee, you can buy with confidence and save yourself time and trouble by avoiding data entry and manual errors.
What's New
Version 4.0.72: Maintenance release