This software enables multiple machine usage within a local network, providing customizable data fields, statistical analysis tools, and the option to attach files to customer records. Data can be exported in various formats like CSV, XLS, and PDF.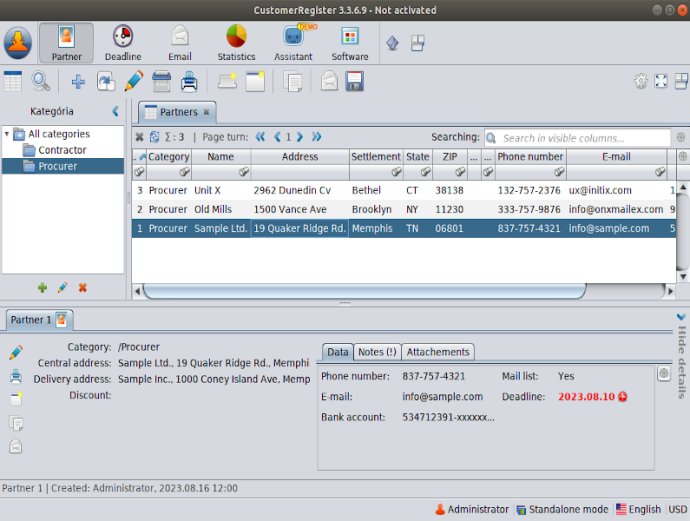 CustomerRegister is a versatile software solution designed to meet all your business needs. It boasts an intuitive network configuration, ensuring seamless integration into your existing setup. One of the standout features of this integrated software is its customizable data field, allowing you to tailor it to your specific requirements.

The software also comes equipped with a powerful statistics module, providing valuable insights into customer trends and behavior. On top of that, you can easily attach files to customer records, ensuring their information is always up-to-date and easily accessible.

CustomerRegister also offers the convenience of exporting customer data to various file formats such as CSV, XLS, or PDF. This makes it a breeze to work with the data in other applications or share it with colleagues and partners. Additionally, the software supports importing external data in CSV format, simplifying the process of updating information.

What sets CustomerRegister apart is its affordability – it is entirely free with no limitations. Despite being free of charge, the software still offers robust functionality. You can use it to send personalized emails to your customer list and effortlessly manage deadlines thanks to the built-in reminder module.

The software's exceptional searching and filtering capabilities allow you to quickly find specific information and retrieve it at a moment's notice. Furthermore, CustomerRegister can be easily used on local networks, making it an ideal choice for small businesses.

In conclusion, CustomerRegister is an excellent software solution that offers a wealth of features to help businesses efficiently manage their customers. Its user-friendly interface, data customization options, and versatile functionality make it an indispensable tool for any organization.
What's New
Version 3.3.7.1: Integrated chat GPT model, faster operation, small bug fixes.
Version 3.3.6.9: Integrated chat GPT model, faster operation, small bug fixes.
Version 3.2.9.0: Show company name in the program header.
New language options: Canada, Australia, Ireland, Germany, Austria, South Africa, Serbia.
Faster database update.
Fixed log file handling.
Corrected data field ordering.
Fixed attachement ZIP compression.
Fixed CSV import.
Version 3.2.6.7: First release.