This software restores lost or corrupted text messages and contacts from blocked SIM cards. It also retrieves valuable data from damaged SIM cards, allowing users to undelete important information. Available for download as a mobile SIM card data recovery application.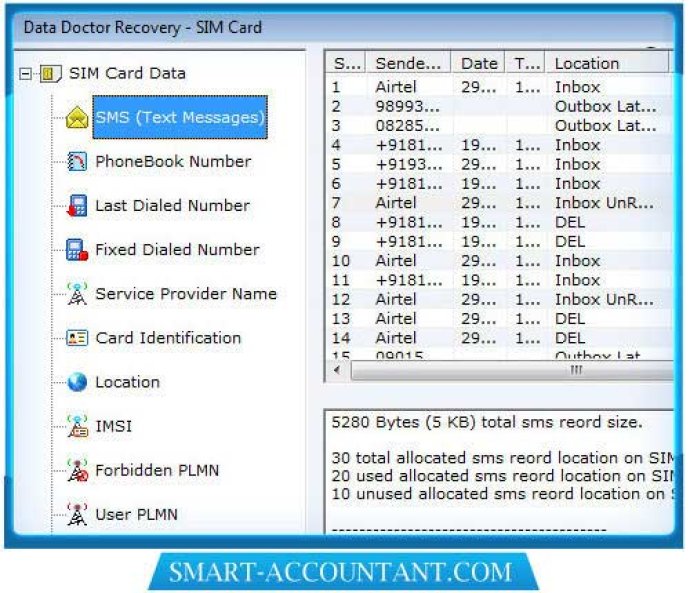 If you've accidentally deleted data from your SIM card or are unable to access it for any reason, the Sim Card SMS Restoration Utility is the solution for you. With this software, you can quickly recover all lost, deleted text messages and phonebook contact numbers from your mobile phone's SIM card.

This comprehensive tool can retrieve all erased information, even when the SIM card is inaccessible or not detected by your phone. It supports 2G, 3G, and GSM technology based handsets to provide detailed SIM card information. You will be able to view all read and unread messages, contact names, numbers, and call lists stored in the SIM card memory.

The software also supports backup of deleted, lost, and inaccessible data that is affected by viruses or software malfunction. The Mobile SIM Card Data Backup Tool provides user-friendly graphical user interface that helps the end user to understand the software easily. The tool is very easy to use and does not require any technical skill to handle it, making the process of data recovery stress-free.

This non-destructive Sim Card Data Recovery software is used to restore your deleted data from damaged SIM cards, and efficiently retrieves accidentally missed data from any mobile phone's SIM card. The blocked SIM card data retrieval tool provides an option to save recovered data at preferred location. The application supports all windows operating systems, including windows 98, 2000, NT, ME, XP, and Vista.

In summary, this application is a safe, user-friendly, and efficient solution for anyone who has lost data due to damaged or blocked SIM cards. With its comprehensive features, the Sim Card SMS Restoration Utility is highly recommended to anyone who is looking to restore their deleted data from their mobile phones SIM card.
What's New
Version 9.0.1.5: Added support to all network service of any sim card service provider