Devart ODBC Driver allows easy connection between Amazon Redshift databases and ODBC-compliant tools for reporting, analytics, BI, and ETL. With enterprise-grade features, this fast solution enhances data retrieval efficiency for improved productivity.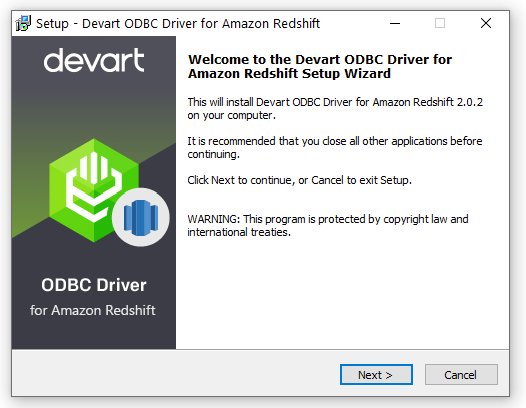 The Devart ODBC Driver for Amazon Redshift is a reliable and feature-rich connectivity solution that offers enterprise-level features for modern businesses. It allows seamless access to Amazon Redshift databases from ODBC-compliant analytics, reporting, ETL, and BI tools on both 32-bit and 64-bit Windows, Linux, and macOS.

One of the notable features of this software is its support for macOS 13 Ventura and Windows 11. Additionally, it enables a direct connection to Amazon Redshift, enhancing productivity and reliability by eliminating the need for additional client tools, libraries, or middleware.

With full support for ODBC standards, including data types and API functions, the Devart ODBC Driver for Amazon Redshift ensures secure and easy access to live Amazon Redshift data from anywhere. It also offers advanced connection string parameters, making it easy to connect to Amazon Redshift from different platforms that support ODBC.

This software is compatible with various operational systems and platforms, as it supports macOS, Windows, and Linux with both 32-bit and 64-bit. It doesn't limit the choice of development platforms or environments.

Designed to deliver high performance and lightweight data access layers, the Devart ODBC Driver for Amazon Redshift utilizes advanced data access algorithms and optimization techniques. Its use enhances quality, reliability, and deployment processes.

For the latest version of the software, you can visit the official Devart website. In summary, if you need a quality ODBC driver for accessing Amazon Redshift databases from different platforms and applications effortlessly, the Devart ODBC Driver for Amazon Redshift is worth considering.
What's New
Version 3.3.3: *Fixed bug with driver license validation for Linked Server in MSSMS
Version 3.3.2: *Oracle 23c, SQL Server 2022, and Maria DB 11 support.
Version 3.3.1: *Added support for SQL_ATTR_MAX_ROWS attribute
*Improved compatibility with Visual Basic in Visual Studio
Version 3.3.0: *Added support for macOS 13 Ventura
*Added support for the PingOne browser-based authentification
*Improved compatibility with Tableau Prep Builder
*Improved compatibility with Crystal Reports
*Improved the SSH connection establishment