PlotLab .NET offers .NET tools for seamless and rapid Data Visualization. It enables swift presentation in a Chart, Scope, Plot, or Waterfall mode, making it ideal for FFT or Histogram Visualization. Non-commercial use is free.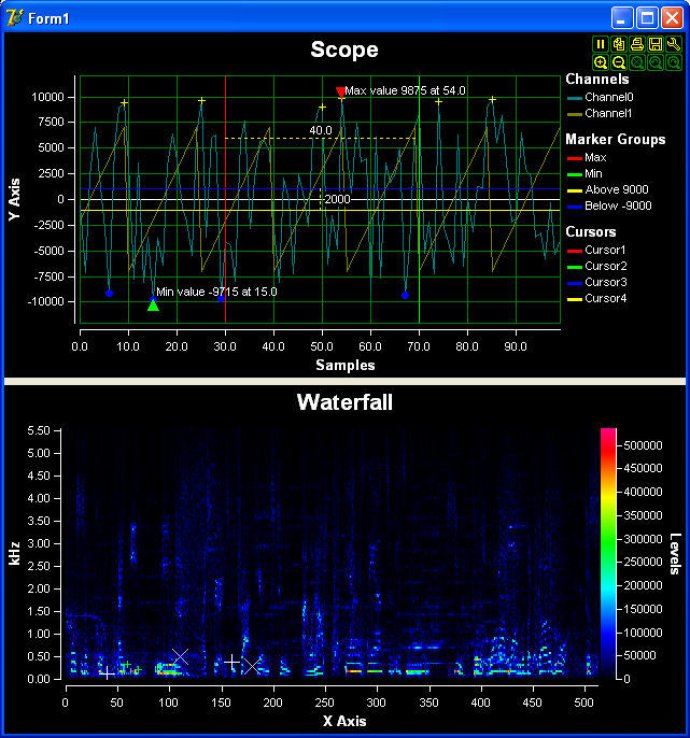 PlotLab .NET is an excellent software tool designed for very easy and fast data visualization. One of the highlights of this software tool is that it includes a visual graphical editor for codeless development, which makes it extremely user-friendly for developers of all levels.

This tool comprises of several components such as Scope, Waterfall, and Multichannel Waterfall. The scope component is a scientific chart component for plotting multi-channel data. The waterfall component is a single channel plotting tool suitable for FFTs and spectrum results. The multichannel waterfall component is a multichannel plotting tool, especially useful for video histogram representation.

PlotLab .NET boasts of several features such as panning and zooming, zoom/pan history, data gaps, markers, cursors, measurement and selections, multi-axes support, downsampling, zones, save to file, print, highlighting, built-in dialog, and composite components.

All of these components are optimized for very fast data plotting and support multithreading. This tool also allows the embedding of components into each other.

If you are a developer looking for a software tool that is easy to use, fast, and can provide the necessary components needed for plotting data, then PlotLab .NET is worth considering. The best part is that it is entirely free for non-commercial use.
What's New
Version 8.0: N/A
Version 7.7: N/A
Version 7.6: N/A
Version 7.5.1: N/A
Version 7.5: N/A
Version 4.5: N/A
Version 4.0.1: N/A
Version 4.0: N/A
Version 3.1: N/A
Version 3.0: N/A
Version 3.0_Beta1: N/A