Diffinity is a diff and merging software that emphasizes on precise and easily comprehensible source code differences. It includes a thumbnail view, folder comparison, tabbed interface, instance highlighting, syntax highlighting, and Unicode support.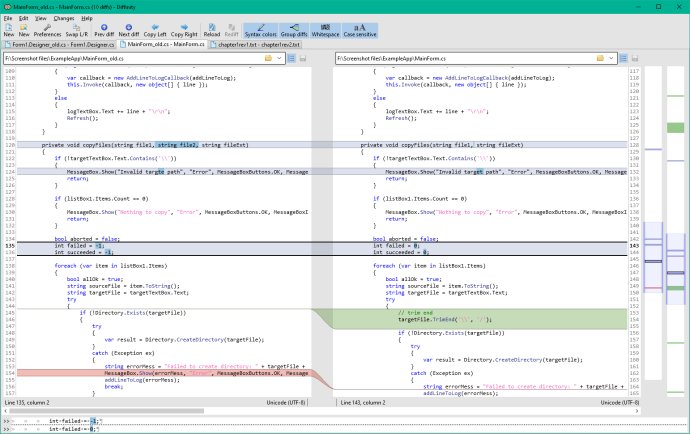 If you're looking for a reliable and easy-to-use diff and merging tool, look no further than Diffinity. This software is specifically designed to provide accurate and easy-to-read source code diffs, giving you a clear understanding of the differences between two files.

Using Diffinity is incredibly straightforward. All you need to do is compare the content of two files, and the tool will present the differences in a line by line and char by char basis. This allows you to quickly identify the changes that have been made, and see exactly where they occur.

With a range of impressive features, Diffinity is a powerful and versatile tool that can handle a wide range of tasks. These features include improved diffing quality for c-style source code and XML, a thumbnail view of all diffs, folder comparison, support for a tabbed interface, and much more.

One of the key strengths of Diffinity is its ability to differentiate between changed, removed, and added lines, making it easy to understand the implications of each change. Additionally, the tool includes manual alignment markers, instance highlighting (which lets you double-click or search for a word to show all instances of it), and syntax highlighting.

Other features of Diffinity include support for Unicode and automatic detection of encoding (and warnings if there is an encoding mismatch), a customizable interface, in-line diffs that are live updated as you type, Windows Explorer shell integration, portability, and custom commands.

Overall, it's clear that Diffinity is a top-tier diff and merging tool that is well worth investing in. Whether you're working on a complex coding project or just need to compare two files, this software offers everything you need to get the job done quickly and accurately.
What's New
Version 0.9.4: Text casing can be ignored, Folder diff exclusions, updated to .NET 6, Text/code diffing quality improvements