This software allows users to produce and print file listings from chosen directories on various storage devices and network shares in different formats such as HTML, text, CSV or a database. Additionally, it extracts file properties and hashes, as well as executable details.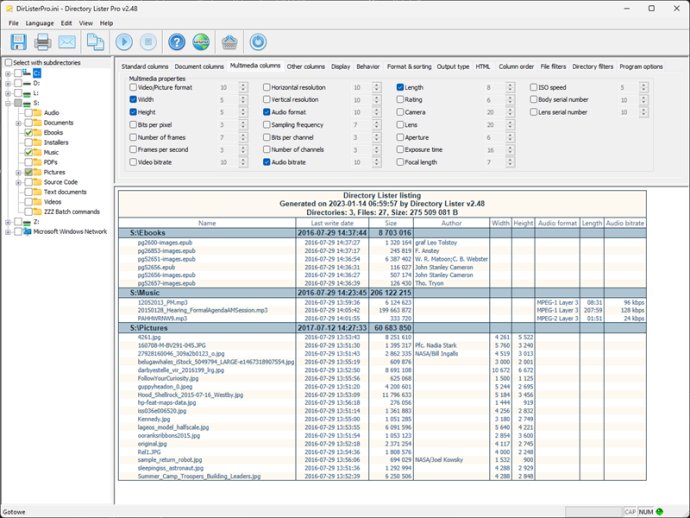 If you need a software that allows you to generate and manage file listings, Directory Lister is definitely worth considering. With this software, you can create, edit, and send file listings from your hard disks, CD-ROMs, DVD-ROMs, floppies, USB storages, and network shares. You can output these listings in various formats, including HTML, text, Microsoft Excel, and CSV. Additionally, you can stream output directly to a PostgreSQL, Microsoft SQL Server, MySQL, Firebird, or Microsoft Access database.

With Directory Lister, you can print basic file information, such as file name, extension, type, owner, and attributes. You can also print multimedia properties for MP3, AVI, WAV, JPG, JPEG, GIF, BMP, PNG, MP4, MXF files. Furthermore, this feature-packed software allows you to get document title, author, keywords, and other available properties for Microsoft Office files without opening each file individually. You can also generate hash sums for each file and folder.

What makes Directory Lister stand out is the availability of extensive options to customize output visual look, column order, sorting, and display format. You can apply filters to limit the files you list based on filename, date, size, and attributes. Directory Lister goes the extra mile to enhance your user experience by integrating the application into Windows Explorer's context menu. This means that you can generate listings without opening the Directory Lister application. And for automated listings, Directory Lister's command-line interface supports Windows Task Scheduler.

Overall, Directory Lister is an excellent file management software that makes creating, editing, and managing file listings a breeze. Its rich features and intuitive interface make it a go-to option for those who need to create and manage file listings on a regular basis. If you are looking for an all-in-one solution for managing files, Directory Lister is a great option to consider.
What's New
Version 2.48: Version 2.48 - 28 Dec 2022
! Fix refreshing hashes after inserting new media to the same drive.
! Fix encoding of properties from zip-like formats.
Version 2.47 - 21 May 2022
+ Displaying total page count in folder rows.