This software offers RADIUS and DOCSIS billing services for multiple platforms such as Mikrotik, Cisco, and more. It supports byte and time capping, bandwidth shaping, and various payment gateways including PayPal and Authorize.net. Prepaid and postpaid accounts along with prepaid cards are also available.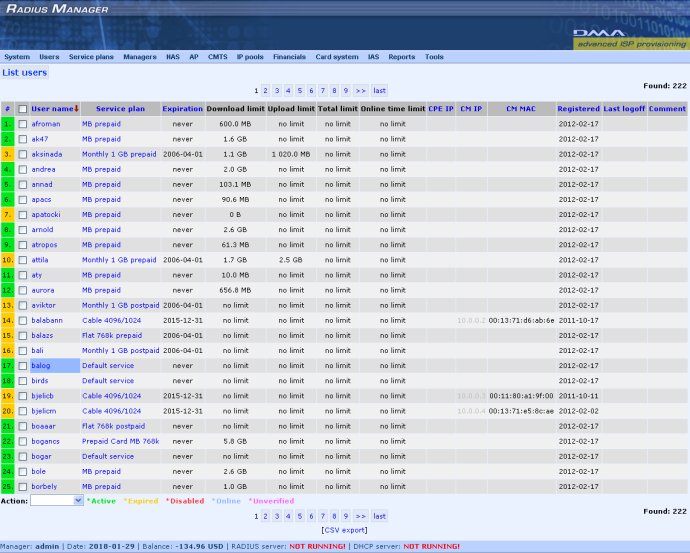 Radius Manager is an exceptional administration and billing solution software that is designed to work effortlessly with various CMTS devices like Mikrotik, Cisco, StarOS, pfSense NAS, and ChilliSpot. It's a versatile software that can be utilized in wireless, dialup, and DOCSIS cable systems.

One of the primary features of Radius Manager is that it offers great flexibility by allowing Byte and time capping, bandwidth shaping, prepaid, and postpaid accounts. Furthermore, it comes with an automated disconnection feature for users with expired accounts for all supported NAS types.

In addition, Radius Manager offers Unix account synchronization functionality that synchronizes email accounts with the RADIUS database for seamless communication. There's also a separate control panel designed for both administrators and regular users, paying attention to user experience. Additionally, it includes an integrated prepaid card generator.

Billing is made easy with Radius Manager as it provides a billing module that offers invoice generation for both prepaid and postpaid users. It also supports several online payment gateways like PayPal, Authorize.net, DPS, and Netcash.

Finally, to track user activity and traffic usage, the software offers a TCP/UDP connection logger module available in the CTS version.

Overall, Radius Manager is an excellent choice for anyone in need of a straightforward, reliable, and flexible administration and billing solution software.
What's New
Version 4.9.0: -Indian tax system support (IGST, CGST, SGST are printed on the invoice)
-card generator deducts the reseller balance
-SMS / email alert extended tag support
-password generator
-show password option
-add credits expired service negative balance issue
and many more.