This free software allows users to design and print barcode labels in bulk using a laser or inkjet printer, or a professional barcode printer. It supports printing on regular A4 or sticky label paper, including popular brands like Avery 5160 and 5161. Excel data can also be used to print barcode labels.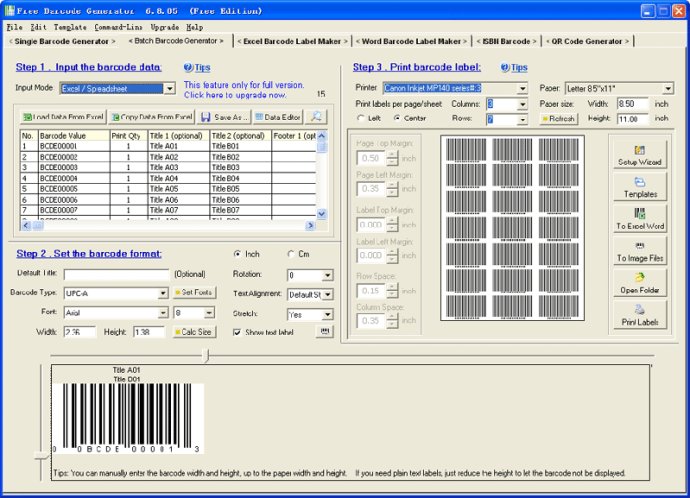 EasierSoft Free Barcode Generator is a software tool that is completely free and permanent for bar code manufacturing and printing. This valuable tool includes a unique function, in which users can print barcode labels on ordinary A4 paper with a laser or inkjet printer for office use, and the sticky label paper such as Avery label paper is applied for better results. It also has the ability to support a professional barcode printer.

The program is designed to support large batches of bar code labels' input and print, so it enables users to input the contents of hundreds of thousands of labels at one time, instead of doing it one by one. You can enter the barcode data in Excel or automatically generate a sequence of barcode numbers, and the bar code labels can then be printed with batches.

The second unique function of Barcode Generator is its ability to manufacture complex barcode labels with the cooperative work between Barcode Generator and MS Excel or Word. Many contents are contained in some bar code labels such as shipping label including shipping address, supplier information, the company's LOGO, etc. In the past, professional bar code label design software were utilized to design and manufacture this kind of labels, but these software are expensive and complex.

Barcode Generator provides a free and simple solution - designing and manufacturing this kind of bar code labels with MS Excel or Word. With its user-friendly interface, most people are skilled at applying Excel or Word, and it is not necessary to learn those complex and professional bar code label design software. Excel and Word are feasible, and their document format editing and printing function are very strong. The complex and exquisite label template can be manufactured with Excel or Word.

Barcode Generator supports all 1D and 2D bar code formats such as EAN-13, UPC,GS1, Code 39, Code 128, ISBN, Data Matrix and QR Code, etc. With Barcode Generator, it is not necessary to have an expensive bar code printer or professional label design software. This software is the perfect solution for anyone requiring a simple and effective barcode generator to help support their business needs.
What's New
Version 6.8.13: Vertical printing
Barcode number exporting.