ENC DataVault provides military-grade encryption for storing, protecting, synchronizing, and securely backing up data. With thousands of users already benefiting from the software, ENC DataVault empowers individuals and promotes greater peace of mind by providing control over their digital life.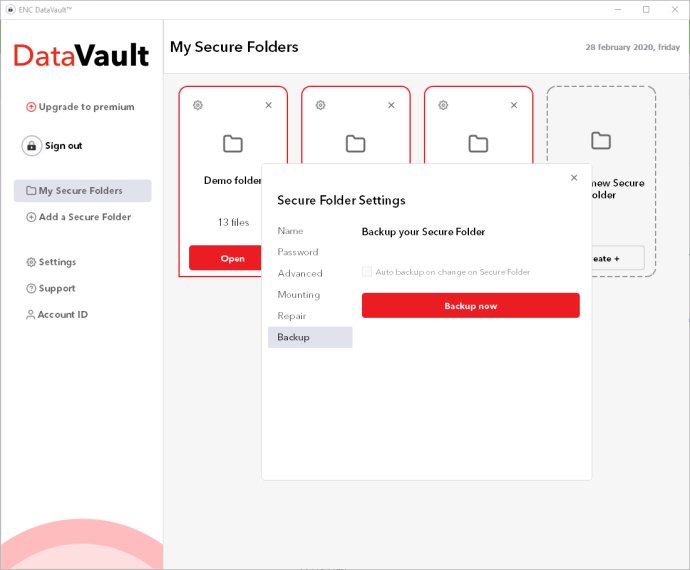 ENC DataVault is a software that transforms any Flash Drive into a portable Digital Privacy Manager (DPM). Its essential feature is the Digital Privacy Manager, which enables the user to protect, secure and manage sensitive files with ease. In today's digital age, everyone has private information and files that require extra security on their computer, laptop, flash drive or any other portable storage device. Whether it's photos, videos or financial records, such data is vulnerable to damage, loss or theft. Misuse of this information can lead to serious consequences such as job loss, expense, and embarrassment.

ENC DataVault is the solution to securing your private information quickly, easily and permanently, protecting your privacy. The software is compatible with Windows, Mac and Linux operating systems. With ENC DataVault, you get a 100% secure data privacy management software, which provides several features like: securely backing up files to your computer, other devices, or the cloud, syncing with other local and remote devices, secure file transfer from flash drives, and easily integrating data backups into daily routine.

ENC DataVault provides total control of access to data, ensuring only the authorized users have access via the password, which even ENC DataVault does not know. The software utilizes military-grade encryption, giving users total confidence in the security of their data. It also allows users to mount and display vaults as Drive letters in Windows or as a Favourite within Windows Explorer. Users can even select their preferred encryption level for new vaults ranging from 128, 256 or 512 bit AES. ENC DataVault offers a single license to install EncryptStick on any combination of three (3) storage devices, whether a host computer or flash drives.

ENC DataVault is industry-grade software with a user-friendly interface that allows you to manage data privacy with minimal effort. Thousands of users have already gained control and greater peace of mind with the power of ENC DataVault. You too can safeguard your confidential data with ease, using encryption technology that meets the highest standards of data security.
What's New
Version 7.0: Improved backup and security.
Bug fixes.