This all-in-one software is an efficient address book, PIM, contact manager, cardfile, and Rolodex, making it an excellent choice for organizing personal information and other types of data. With a fast and easy-to-use database, searching for stored information is quick and effortless.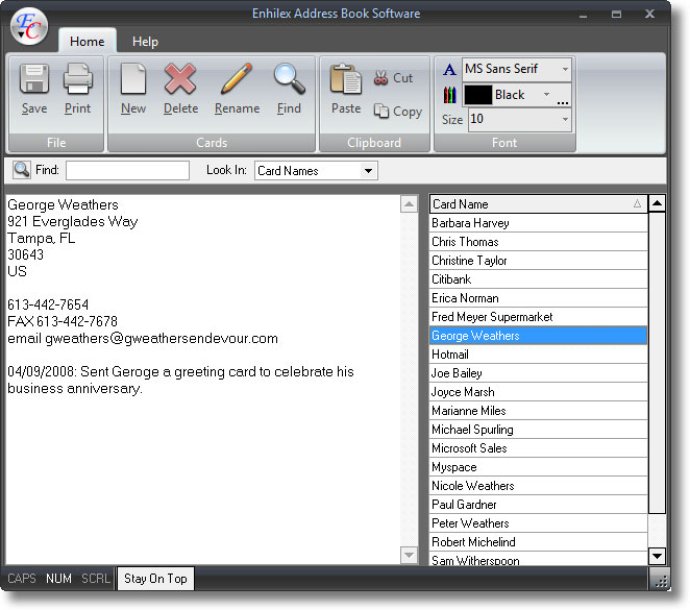 Enhilex Address Book Software is a great tool for anyone looking for an efficient way to store their personal information, contacts, or any other type of info. This award-winning software provides a fast and easy-to-use database, accommodating all your needs. With this software, you will become more organized and more effective in the way you work and stay in touch with people.

The software is lightweight and uses very few system resources, unlike other bloated applications. It can run in the background throughout the day and remains easily accessible as you work. Hence, you can retrieve contact, database, or any other information in a matter of seconds.

The search feature of this software is powerful and lightning-fast. The "as-you-type" search gives you instant access to your data, even if you remember just part of a keyword. This feature helps you save time and improves your efficiency.

Enhilex Address Book Software is excellent for filling in web forms, using the stay on top feature. You can hover over the software on your web browser or any other application, while filling in forms. This way, you can quickly copy and paste your personal information into the forms. Many users of our program create a "My Home" card that holds their home address, phone numbers, email address, etc. With the search box, they can quickly copy and paste the correct information into any program or form.

The software uses lightning-fast in-memory database technology. This means that your data is loaded into the memory, giving you instant searches and filters. This technology supports millions of records, making the software much faster than other programs that use disk-based access.

This software is flexible, and it can work the way you want without limiting you to a rigid framework. So, you can choose what works for you and customize accordingly. In summary, Enhilex Address Book Software is an excellent tool for anyone seeking an efficient, lightweight and fast software that can manage every aspect of their contact information.
What's New
Version 3.23: N/A