Extract email addresses from MSG files with the MSG Email Address Extractor. Easily retrieve email addresses from the header fields of multiple MSG files simultaneously. Save the extracted email addresses as CSV, HTML, or TXT files for convenient use.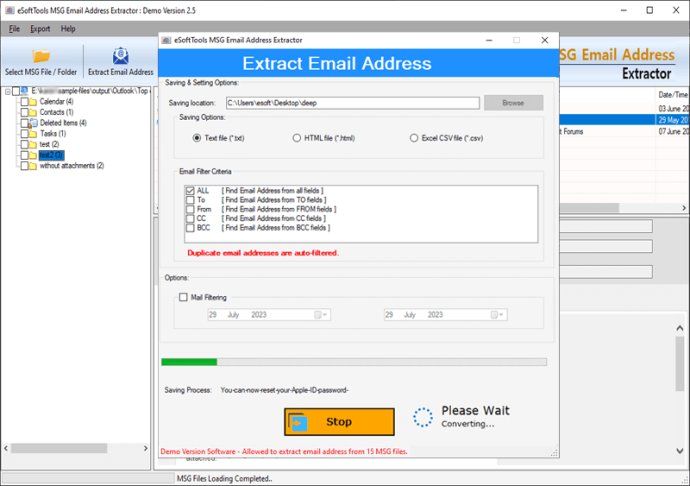 I recently had the opportunity to try out the MSG Email Address Extractor software developed by eSoftTools, and I must say it is the most advanced tool I have come across for extracting email addresses and attachments from MSG files. This Windows-based software offers instant and reliable solutions for smoothly performing MSG file's email address extraction tasks.

One of the standout features of this software is its ability to instantly extract email addresses from Outlook MSG file's emails. It also allows for the extraction of attachments from Outlook items available in MSG files. What's more, it supports the extraction of email addresses and attachments from multiple MSG files at once, making it an efficient and time-saving tool.

In terms of flexibility, this software allows you to save the extracted email addresses in three different file formats: TXT, HTML, and CSV. You can also choose to extract email addresses from a specific email header field such as TO, FROM, CC, BCC, or ALL. Additionally, it offers two distinct modes for loading MSG files: Select MSG files or Select MSG Folder.

For users who want to extract email addresses from emails of specified dates, the software provides a mail filtering function. This feature comes in handy when dealing with a large number of MSG files and helps streamline the extraction process.

Before performing the email addresses or attachments extraction, the software conveniently shows Outlook items from MSG files. This allows users to preview the content and ensure that only the required information is extracted. Furthermore, the software ensures that when extracting email addresses from MSG files, no other information is lost or modified.

Another noteworthy aspect of this software is its compatibility. It supports extracting email addresses from both ANSI and Unicode MSG files of all Outlook editions. The graphical interface provided is user-friendly and accessible, making it suitable for both novice and highly technical users.

Compatibility is no issue, as this software works seamlessly across all Windows operating system editions, including Windows 11, 10, 8.1, 8, 7, and other older editions.

For those interested in trying out the software, there is a free demo version available. This version allows users to perform email address and attachment extraction tasks from 15 MSG files of each selected folder, free of cost. This provides a great opportunity to test out the software and see if it meets your requirements before making a purchase.
What's New
Version 2.5: eSoftTools launched a tool for Outlook MSG Email Address Extractor for our users to easily extract email addresses from MSG files.