Softaken PDF Champ is a versatile PDF management software that can secure and remove security from PDFs, watermark them, convert them to images, merge small-sized files, split large-sized files, and even create invoices from PDF files.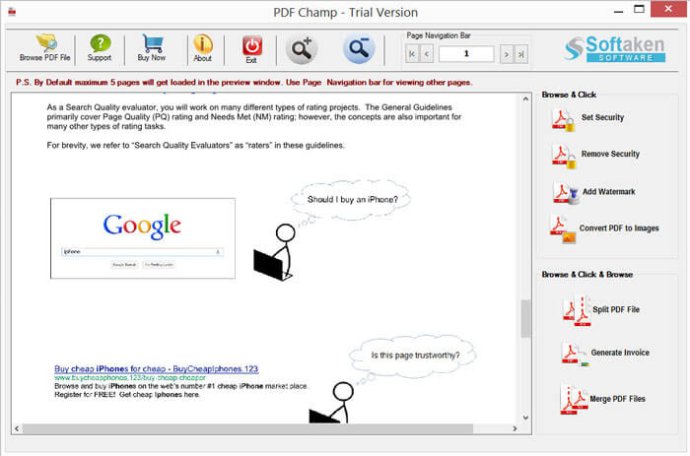 Softaken PDF Champ is a user-friendly software that comes packed with a range of powerful features. The application can perform multiple tasks without any issues, allowing you to efficiently manage your PDF files. With Softaken PDF Champ, you can easily add a password to your PDF files to prevent others from opening, copying, printing or editing them without your consent. Additionally, if you want to remove the PDF security, the tool can do so without any difficulty.

Softaken PDF Champ also allows you to protect your PDF files by adding a watermark, which makes them more secure. You can even split your PDF files into multiple parts or combine several PDF files into one document. This software is standalone, which means you don't need any additional tools to use it.

The software includes a complete preview feature that makes the processing of PDF files much easier. Moreover, Softaken PDF Champ includes advanced options to help you add watermarks and generate invoices for your business needs. You can rest assured that the program is 100% safe to use, with no risk of data loss or file damage. The application has undergone extensive testing by programmers before being released to the public.

No original files are altered, and the quality of the files remains unchanged. The application can handle multiple PDF files and is suitable for both personal and business use. You can save the processed PDF files to any location of your choice, giving you complete flexibility and control.

Softaken PDF Champ is an affordable software solution that can be easily purchased by any user. If you're not sure about the software's efficiency and features, you can download a free trial version to test it out before making a purchase. The software is fully compatible with Windows and runs smoothly on all versions.

If you have any doubts or questions, you can reach out to the Live Chat Team or Customer Care Team, who are available around the clock to help you. With its range of features and ease of use, Softaken PDF Champ is a must-have tool for anyone dealing with PDF files on a regular basis.
What's New
Version 1.0: N