EzCheckPrinting is a time-saving software for creating and printing MICR checks, designed for businesses of any size. It allows the customization of check layouts and adding logos onto blank computer check paper, saving money in the process.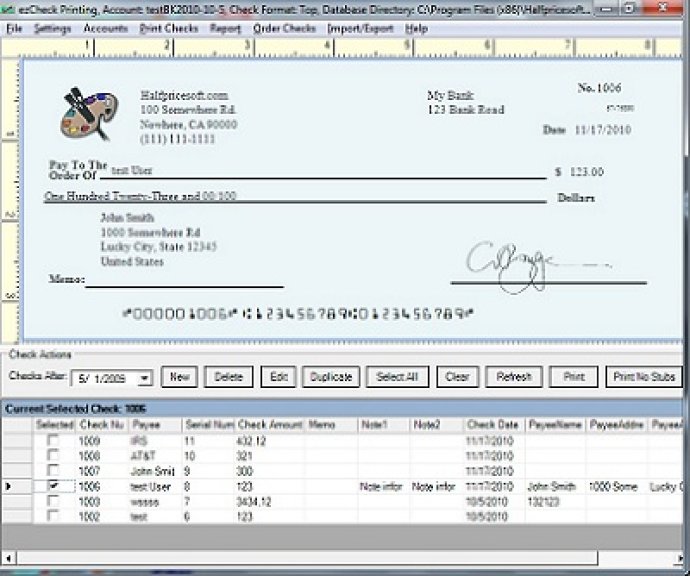 If you're looking for a solution to design and print your own MICR checks for your business, look no further than ezCheckPrinting. This software is suitable for businesses of any size, and is a great way to save money on check expenses.

One of the main benefits of using ezCheckPrinting is the ability to print business checks on blank computer check paper. This can be a huge cost savings, especially for small businesses who don't need to order large volumes of pre-printed checks. Additionally, ezCheckPrinting allows you to edit check layouts and create customized checks, which is great for branding and adding a professional touch.

A free version of the software is available, which is easy to use and allows you to print your first check in just a few minutes. However, the free version does not include access to check layout editing. For those who want additional features, the full version of ezCheckPrinting is available for purchase at an affordable price of $24.00.

Some of the main features of this software include support for multiple accounts and unlimited bank accounts. You can print your own checks on blank computer check paper or pre-printed checks, and easily add your signature and logo to your checks. The check layout editing function allows you to create a customized check format, and the software is designed for easy export and import of data. Finally, network access is available for businesses that need to operate across multiple locations.

Overall, if you're looking for an efficient, easy-to-use software solution to print your own business checks, ezCheckPrinting is definitely worth considering. Plus, the affordable price makes it accessible to businesses of all sizes.
What's New
Version 7.0.5: update software for Windows 10. Add new features