FAR Manager Password Recovery quickly recovers and decrypts passwords for all FTP sites incorporated in FAR Manager.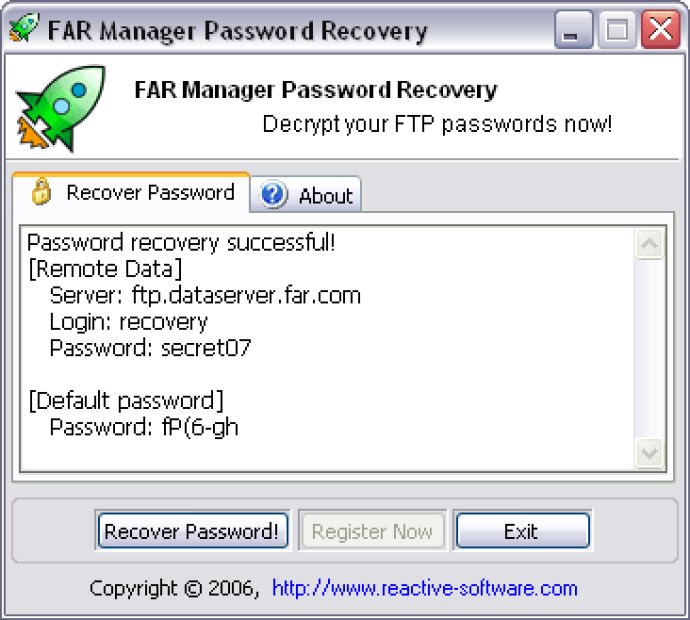 FAR Manager Password Recovery is a highly valuable program for recovering lost or forgotten passwords for FTP sites that have been added in FAR Manager. This software is designed to instantly recover and decrypt account information, including the default password. All versions of FAR Manager are supported, as well as all versions of the FTP plug-in.

This software has multiple features that make it stand out from others. One of these is its support for multiple FTP accounts, making it easy to recover all passwords within a single program. Additionally, it supports the recovery of default passwords.

FAR Manager Password Recovery was first introduced in 1999 by Ilya Levin for FAR Manager FTP plug-in. It was initially designed as a command-line decoder that was capable of extracting password information from the registry and decoding it with a unique algorithm. At the time, it only supported version 1.63 of FAR Manager.

Since then, different versions of FAR Manager have stored passwords in varying locations. FAR FTP Password Recovery has evolved to become a highly user-friendly program that retrieves passwords for all locations within the registry with a simple click of a button.

Overall, FAR Manager Password Recovery is a reliable and easy-to-use software that seamlessly recovers passwords for all FTP sites stored within FAR Manager. Its compatibility with all versions of FAR Manager and FTP plug-in makes it a must-have tool for all users.
What's New
Version 1.0.145.2006: N/A
Version 1.0.140.2006: N/A