FastSum is a Windows MD5 Checker software that ensures the integrity of your files quickly and accurately through a cryptographic algorithm. Its user-friendly interface makes it easy to use.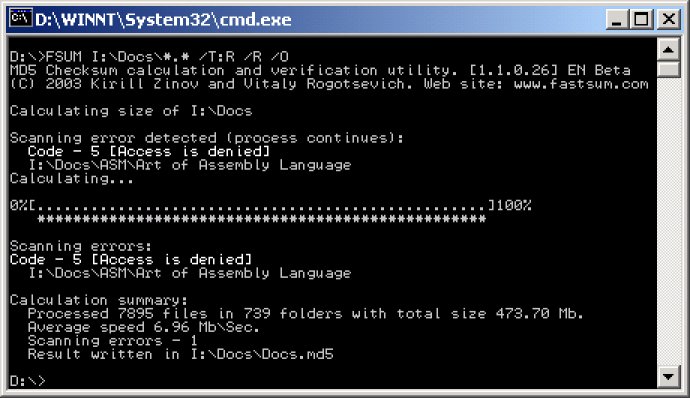 FastSum is a versatile utility that provides lightning-fast control over the integrity of your files. Its high accuracy and speed are achieved through the use of a well-known and time-tested cryptographic algorithm. In fact, FastSum is essentially a Windows MD5 Checker that utilizes the MD5 algorithm for calculating short and robust digests of your data. These digests can then be used as reference checksums for subsequent data integrity verification.

Despite the use of unintelligible words, FastSum remains effortless to use. It was designed to help rectify errors that arise during data transfer, including network transfers, CD-R and DVD burning, and software errors. This software is developed to easily process a massive files count and comes with a usable command-line interface. Moreover, it provides special filters that allow users to select only specific file types, akin to the famous md5sum software for the Unix platform.

One of the most significant features of FastSum is its ability to check the changes within your data efficiently. It enables users to build a list of altered files for review while demonstrating incredible processing speed. Given that it is Unicode, there is no need to worry about language-specific issues when working with files named in different languages.

In conclusion, FastSum is an excellent software utility with a multitude of features perfect for anyone who wants to ensure file integrity. Its fast speed, accuracy, and intelligent design make it an excellent asset in the field of data integrity control.
What's New
Version 1.9: N/A