Fling is FTP software that automates file uploading and transfer processes. It is useful for managing a website on a remote server or automating folder backup tasks.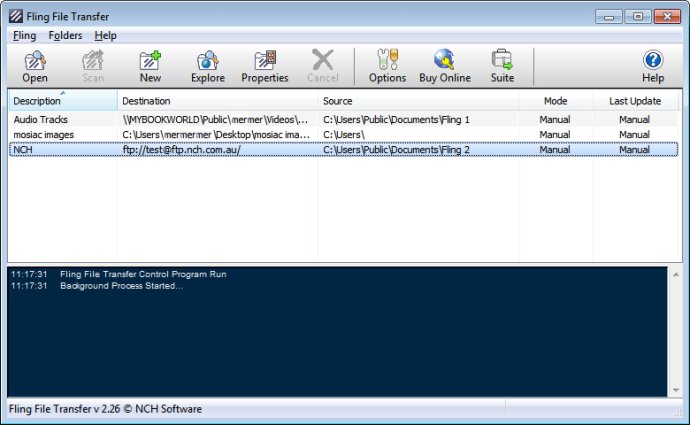 Fling is a powerful FTP software that can help streamline the process of uploading or transferring files. Typically used in maintaining a website on a remote hosted server or automating backups of folders, this software supports both file transfer protocol (ftp) and network file transfer.

One of its best features is its "Fling Folders" that you can set up on your local computer. Working in these folders is as easy as working in any other folder on your computer. When you add or change any file in these folders, Fling will upload it to a remote FTP server or a network folder for you. The operation can be set to be automatic (uploading as soon as files are changed), at a preset interval (every hour, for example), or manually.

This software is very versatile and has many applications, including automatically updating websites, editing or creating documents that are stored in a network folder while still having a backup on your computer, managing multiple file transfer destinations, and backup important files by setting them to be saved at a specific interval.

For over 27 years, NCH Software has led the industry in audio, video, telephony, dictation, business, and computer utility software for Windows, Palm, Pocket PC, and Mac OS X. With over 80 products since 1993, and numerous awards for software excellence, NCH Software is a trusted source for DJ, broadcast, stream, record, edit, convert, burn, mix, split, tag, rip and play audio files for wav, mp3, and other popular file formats.

With NCH Software, you can broadcast video, record webcam, edit video, convert video, burn DVDs, download YouTube internet videos, and even secure your home with surveillance software. They offer a host of related software products such as voip, softphone, ip phone, voicemail, a PBx system, call recorder, call attendant, multichannel voice recorder, as well as free invoicing software for your business. When you need software for inventory management, accounting, billing, crm, or payroll, you can also find them at NCH Software. For dictation software, they offer a free download.
What's New
Version 5.03: Major Update