Free TTS is a software that converts written text to natural-sounding speech and saves it as an Mp3 file. The software provides a simple and effective way to convert any text format into speech format or Mp3.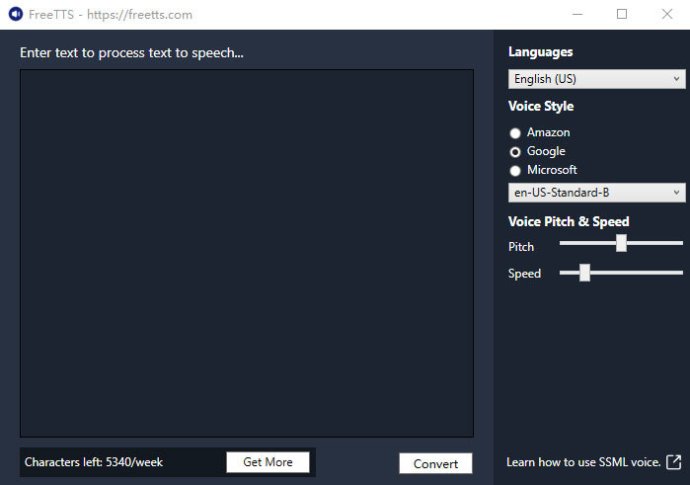 Free TTS is an online text to speech converter software that provides users with the best and easiest way to convert formatted messages into mp3 or speech format. This software is powered by Google, Microsoft and Amazon text-to-speech technology and supports over 50 languages and natural sounding.
One of the main benefits of Free TTS is that it offers a fast text to mp3 conversion process, allowing users to quickly and easily convert text to speech. The software also supports SSML voice, which enables users to add more effects to the voice. Additionally, Free TTS is completely free to use and there is no need for registration.
The software's powerful engine is powered by Google machine learning and TTS capability, which ensures that the process of text-to-speech is fast and the quality of the results is high. Furthermore, users do not need to create an account or subscription to get more characters. Instead, they can pay a one-time fee for added characters.
Using Free TTS is super easy and fast. Users simply need to copy and paste text to the text box, select the languages and voice styles, adjust the pitch and speed, and add SSML tags if required. Once all of these steps are completed, users can click the "Convert" button to complete the process.
The software's privacy policy ensures that no audio files will be stored on the server, making it a safe and practical choice for users. In case of any problems, users can visit the website or contact
[email protected]
for assistance.
What's New
Version 1.0: None