Freight 3 is a comprehensive software solution that allows transport businesses to effectively manage their operations. With features such as transport recording, invoicing, driver and customer management, and customizable tables, it provides all the necessary tools for efficient control. It also offers data export options in popular formats for easy analysis and reporting.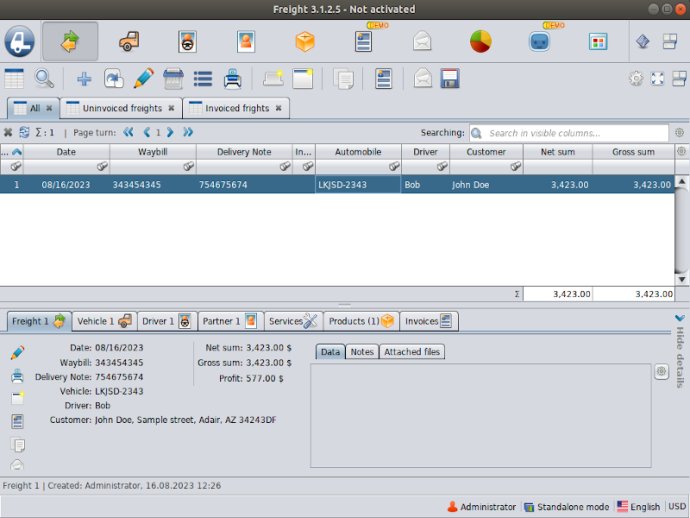 Software Review: Freight 3 - The Ultimate Transport Register Solution

Freight 3 is a comprehensive software designed to meet all your transport register needs. With its user-friendly interface and a range of key features, it offers a seamless management experience for freights, cars, drivers, and customers.

One of the standout features of Freight 3 is its simple interface, which makes it effortless to manage various aspects of your transport business. Whether it's organizing freights, managing cars and drivers, or handling customer information, everything can be done with ease.

The software also offers customizable tables, allowing you to extend them with custom columns tailored specifically to your requirements. This flexibility ensures that the software can adapt to your unique business needs.

Invoicing and emailing become hassle-free tasks with Freight 3. The software can auto-create invoices and even send personalized emails effortlessly, saving you time and effort.

Data export and recovery is made simple with Freight 3. You can export data to various formats such as XLS, PDF, CSV, and TXT, making it easy to share and analyze information.

Generating barcodes for products and options is a breeze with Freight 3. This feature helps streamline your operations and ensures accurate tracking and identification.

Freight 3 takes things a step further by integrating innovative AI assistance. It aids in efficient text processing, further enhancing productivity and accuracy.

The benefits of using customizable software like Freight 3 are manifold. By customizing the software to fit your workflows, you can increase productivity and make tasks more efficient. Additionally, the flexibility of modifying the software allows you to meet future requirements and adapt to changing business needs.

Tailoring the software to your preferences and work style reduces stress and ensures an enjoyable experience. You can customize settings and interface layouts according to your liking, creating a personalized work environment.

Join the league of satisfied users and transform your transport business with Freight 3 today. Its customizable nature ensures that it evolves with your business and provides continued support and efficiency. Upgrade to Freight 3 and experience a new level of convenience and optimization.
What's New
Version 3.1.2.9: Integrated chat GPT model, faster operation, small bug fixes.
Version 3.1.2.8: Integrated chat GPT model, faster operation, small bug fixes.