The GS1-128 Barcode Font Suite provides fonts and encoders that comply with GS1-128 standards. Compatible with various software such as Java, .NET, and Crystal Reports.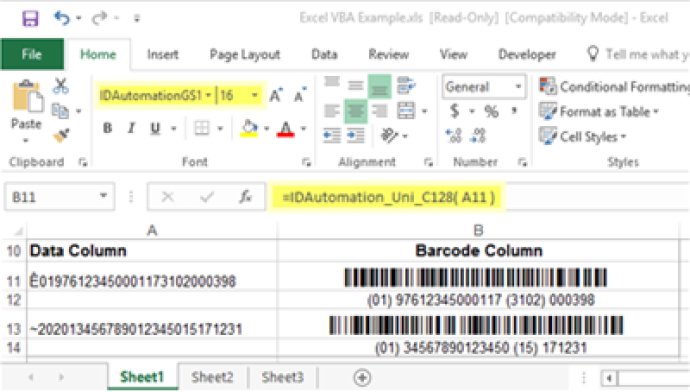 The GS1-128 Barcode Font Suite is an impressive software package that is ideal for generating GS1-128 barcodes. This software not only includes fonts, but also encoders to generate barcodes in various environments such as Excel, Access, Crystal Reports, FileMaker, SSRS, .NET, Java, Internet, Email and many more. The package has extensive compatibility with a range of environments using Windows, Mac, Linux and Unix.

This package offers a collection of 18 different Code 128 font sizes that match any GS1-128 specification, such as SSCC, GDTI, GRAI, GIAI and GLN, UDI, HIBCC UDI, ICCBBA UDI, including USPS Special Services barcodes. It is compatible with multiple character sets including Japanese, Chinese and Korean. Additionally, it offers font encoders with an automated methodology of calculating MOD 10 characters where required.

For those who use VB script and VBA, the GS1-128 Barcode Font Suite includes an automatic script that formats text and adds parentheses, as appropriate AIs. This makes it much more convenient to apply complex algorithms in your project.

The GS1-128 Barcode Font Suite is available in a variety of license options to suit your usage scenario. Whether you are planning on using it as a single user, for a multi-user team, on a single site or for commercial use, this package has a range of options to choose from.

Developer License versions are also available; these come with Developer Tools for use in Java, .NET, SSRS, the web and other complex environments. This is especially beneficial for developers who wish to integrate the package into their software, delivering a better user experience. Overall, the GS1-128 Barcode Font Suite is an exceptional product with many useful features that you won't find in any other product of its kind.
What's New
Version 2022: Updated documentation and included .NET 7 and .NET font encoder source code.