iCloud Extractor allows users to easily extract their iCloud backups, including photos and videos, to their Mac. Freeing up iCloud storage space, it allows users to back up their iPhones or iPads to iCloud even when storage is limited.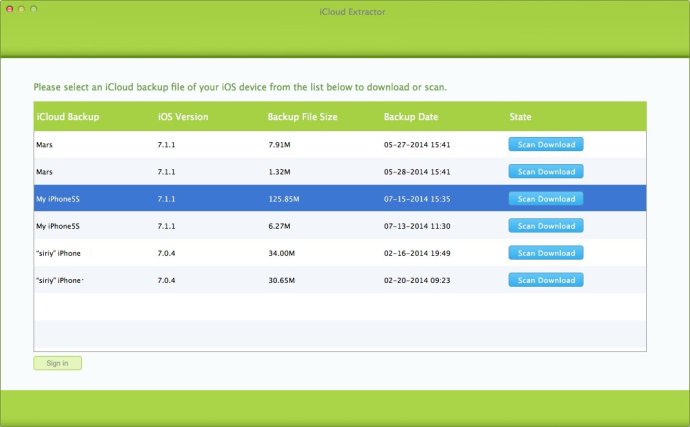 iCloud Extractor is an impressive software that provides a comprehensive solution to extract iCloud backup, including photos, videos, contacts, and more. With this software, you can effortlessly transfer all your data to either Mac or an external hard drive, which can help to free up your iCloud storage space.

One of the best features of iCloud Extractor is that it enables its users to back up their iPhone or iPad to iCloud, even when there isn't enough room. This can save you a ton of money, as you won't need to pay Apple for more storage space.

Moreover, iCloud Extractor makes it incredibly easy to access and manage your iCloud backups. You can sign in using your Apple ID, and it will automatically read and list all the backups from your iCloud account. You can then choose a backup point to extract the data from. The software will show you all your backup data, including camera roll, photo stream, app photos and videos, contacts, text messages, notes, etc.

Once you extract your iCloud backups to your Mac computer or external hard drive, you can make those data freely accessible. Additionally, it keeps your vital data safe and manageable.

Apple provides only 5GB of iCloud storage for free, which can get tight pretty quickly. If you don't have enough storage on iCloud, you can't back up your iPhone, or iPad until you have extra room. The good thing about iCloud Extractor is that you can delete the unnecessary backups to reclaim storage space. This way, you don't need to pay Apple for more storage space.

Overall, iCloud Extractor is a highly useful software that can help you save money and space by backing up your iOS device data to your Mac or external hard drive. With its easy-to-use interface and comprehensive features, it is surely worth trying if you are looking for a reliable iCloud extractor.
What's New
Version 1.5.0: Supports to scan incomplete backup