IcoFX is a professional software for creating and editing icons and cursors. It offers a complete solution for creating and extracting icons on both Windows and Macintosh platforms, with support for transparent icons.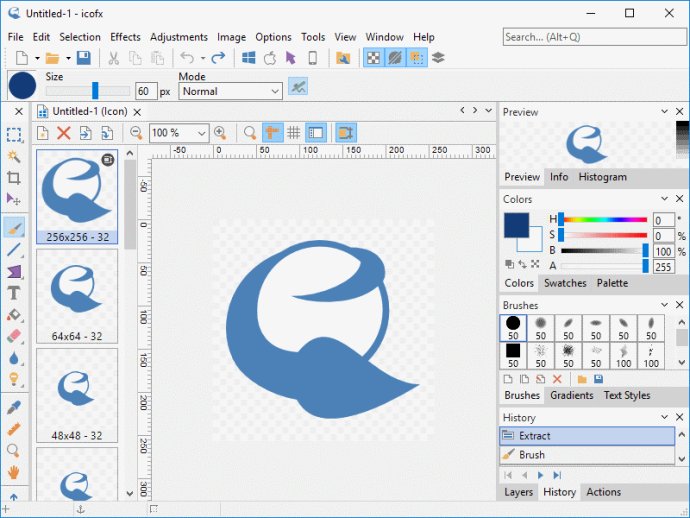 IcoFX is a professional icon and cursor editor that has won several awards for its impressive features. It is an all-in-one solution for icon creation, extraction, and editing. The software is compatible with both Windows and Macintosh icons, supporting transparency.

With IcoFX, users have access to a wealth of tools for designing icons with many image adjustments and over 40 effects to choose from. The possibilities for creating unique icons are practically endless, whether you want to convert your favorite images into icons or icons into images. Moreover, IcoFX enables you to create and edit icon and cursor libraries or even change icons inside exe files. You can also create a favicon for your website or blog with ease.

IcoFX provides support for converting Macintosh icons to Windows icons and vice versa. It enables users to extract icons from other files, including Windows Vista and Macintosh files. Moreover, the software allows you to work with multiple files using the batch processing capability of IcoFX.

The software boasts several impressive features that include support for 768x768 Windows 10 icons, support for Vista icon with PNG compression, and the ability to create icons and cursors for Windows 98 / ME / 2000 / XP / Vista / 7 / 8. Users can also expect support for Macintosh OS X icons, create static and animated cursors and png, and bmp toolbar strip images (Business license).

Importantly, IcoFX enables the conversion of Macintosh icons to Windows icons, creates/edit icon and cursor libraries, and create favicons for websites or blogs, among other features. The software also supports transparency (alpha channel), batch processing for import, export and extract (Business License), and the extraction of icons from 32-bit exe and dll.

Users can also import and export images with ease, get the support for multiple languages, enjoy over 40 effects, custom filter, image adjustments, and take advantage of the full assortment of tools. Additionally, IcoFX provides layers and soft selection features, making it an excellent choice for anyone looking for a sophisticated icon and cursor editor.
What's New
Version 3.9: PNG clipboard format; Get favicon from websites; Copy image to base64; Enhancements and bugfixes
Version 3.8.1: Custom svg based shapes tool; Enhancements and bugfixes