ID Cards Creator is a versatile software that allows users to easily create a variety of ID cards, including Student ID, Security ID, Employee ID, and Guest ID cards. With intuitive image designing tools and a batch processing option, users can quickly generate multiple ID cards in less time.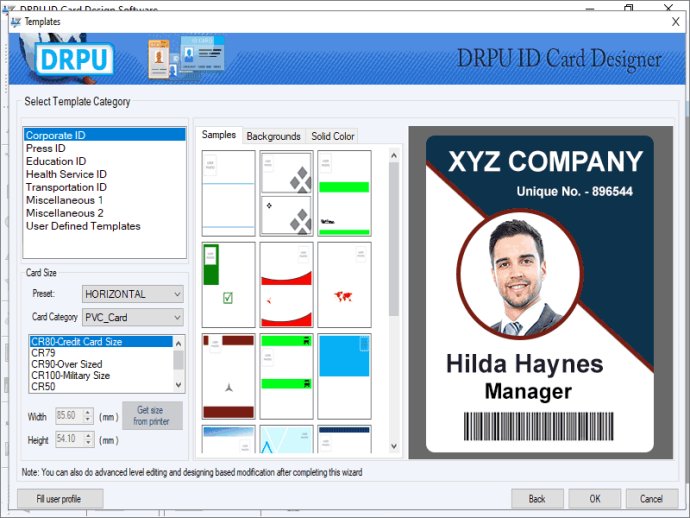 Windows ID Card Maker is a software that allows users to create ID badges to meet their business or personal needs and requirements. With its basic graphical user interface, even non-technical users can design ID cards without any technical knowledge or experience.

The software has three different modes for designing identity cards: Start with Template, Start by using Wizard, or Open with Existing Label Format. Once you choose your desired mode, the program provides several categories to choose from, including Corporate ID, Press ID, Education ID, and Transportation ID.

Users can select a template and customize it by adding a background and solid color according to their preferences. They can also specify card presets, card categories, and card dimensions. In addition, users can import user profile information from an excel file or manually fill in the information such as username, position, company name, address, and phone number.

The software also has an inbuilt image library for users to add their photo, or they can browse their computer files. With the software's different designing tools such as line, text, shapes, images, signature, barcode, watermark, users can fully customize their ID cards.

For users who need to create multiple identity cards with different barcode and text values, Windows ID Card Maker has Batch Processing series, which allows users to import a file containing all the different text and values to create a new series.

Windows ID Card Maker allows users to save their designed identity card in three different file formats, including image, pdf, and template. Finally, users can print their identity cards by filling in all the printing attributes and proceeding to print.

Overall, Windows ID Card Maker is an efficient and easy-to-use software that provides users with the necessary tools to create professional and personalized ID badges.
What's New
Version 8.5.3.2: Added Support for Latest Windows OS Updates. Added Support for High DPI resolutions Compatibility. Added new Barcode Technologies. Added additional Batch Processing Features to import Data from Excel Sheets.