Infallsoft Screen Capture is a robust software that offers diverse capture options, such as full screen, region, window, scroll, directx, video screen, and sound capture. It can assist you in recording and saving various types of visuals and sounds for future use.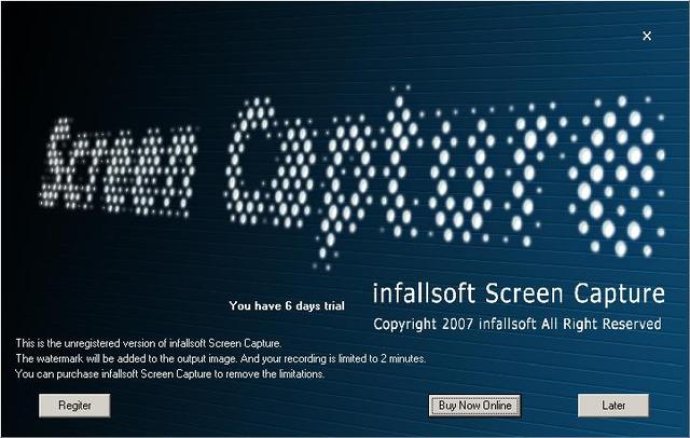 If you are looking for a comprehensive screen capture software, look no further than infallsoft Screen Capture. This software offers a wide range of capture options including full screen capture, region capture, window capture, scroll capture, directx capture, video screen capture, sound capture and more.

With infallsoft Screen Capture, you can capture anything on your screen including windows, objects, full screen, rectangle regions, freehand-selected regions, and scrolling windows or web pages. The software boasts innovative features such as a floating Capture Panel, hotkeys, resizing, cropping, text annotation, printing, e-mailing, a screen magnifier, and many more.

Using this software, you can easily and quickly capture images or videos for your immediate use. Whether you're creating tutorials, recording game footage, or capturing important information, infallsoft Screen Capture has got you covered. Try it out today and see for yourself just how easy and efficient screen capturing can be!
What's New
Version 2.64: Screen Capture
Version 2.61: Screen Capture
Version 2.58: Screen Capture
Version 2.46: Screen Capture
Version 2.41: Screen Capture
Version 2.38: Screen Capture
Version 2.37: Screen Capture
Version 2.36: Screen Capture
Version 2.35: Screen Capture
Version 2.26: Screen Capture