Internet Cyclone is an efficient windows optimizer software which enhances the Internet connection speed up to 200% by optimizing registry settings. Compatible with various Windows operating systems, it is user-friendly and user-friendly.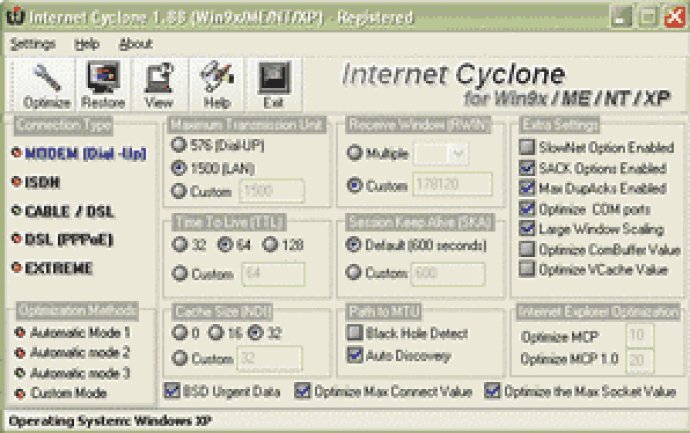 If you're looking for a powerful and easy-to-use Internet optimizer, then Internet Cyclone is definitely worth considering. Compatible with Windows 95, 98, ME, NT, 2000 XP, Vista, 7, 8, and 10, this software is specifically designed to automatically optimize your Windows settings and boost your Internet connection by up to 200%.

What's great about Internet Cyclone is that it's compatible with all modems and high-speed LAN, ISDN, CABLE, DSL, T1, and other connections. This means that you can use it no matter what type of Internet connection you have.

This Internet connection optimizer is highly effective and can speed up web browsing, file downloading, e-mailing, online gaming, chat, and other Internet-related software utilities. It does this by preventing data fragmentation during transmission, which is a common issue that can cause slow Internet speeds.

Overall, if you want to improve your Internet speed and enjoy faster browsing and downloads, then Internet Cyclone is definitely worth checking out. It's a reliable and effective optimisation tool that can help you get the most out of your Internet connection.
What's New
Version 2.29: Fixed some minor bugs, Improved acceleration settings