IPInfoOffline is a compact software that provides IP address information. It stores a database of IP addresses within the application, eliminating the need for external servers.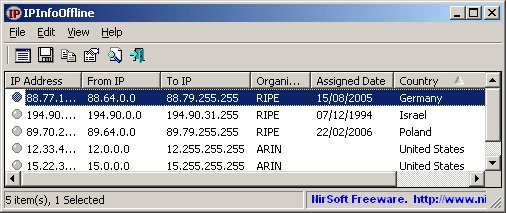 IPInfoOffline is an exceptional software for getting accurate information about IP addresses. It eliminates the need to connect to an external server because it has a powerful IP address database that is stored within the .exe file. This feature makes it easy to access IP information without having to rely on a third-party service.

When you input an IP address into IPInfoOffline, it provides you with an array of useful details such as IP block range, organization, assigned date, country name, and country code. This wealth of information can be beneficial for various needs, from cybersecurity to research.

Once you have the desired information about an IP address, you can either copy the details to the clipboard or save them in a file in different formats like text, HTML, XML, and CSV. This wide range of output options ensures that the software is effective and useful in various ways.

Overall, IPInfoOffline is an efficient and practical tool that stands out as a reliable solution for IP users. Its ability to provide comprehensive data quickly and its versatility in saving and sharing relevant information makes it an essential tool for any desktop.
What's New
Version 1.70: N/A
Version 1.61: N/A