Software now resolves Y2K38 issue and offers tracking and tracing of users logging in.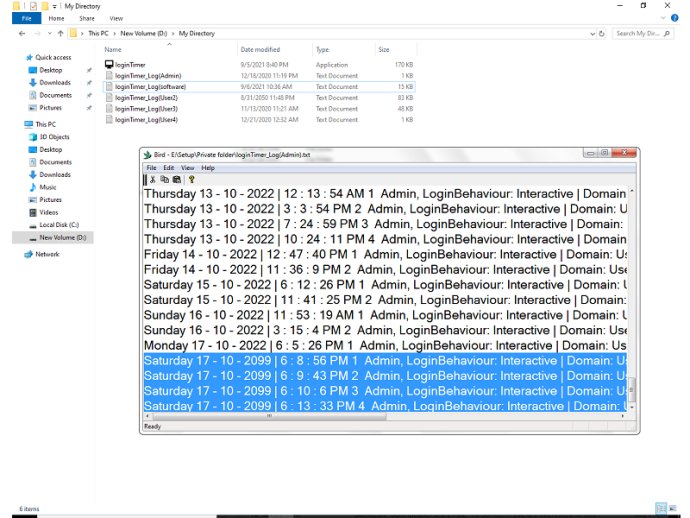 If you're looking for software that can help you monitor your computer users' login date, time, total logins each day/user, admin actions, login behavior local/remote, and save them in a private log file continuously, one by one, then loginTimer is a must-have. This application is designed to filter out all the necessary details and store them in an organized manner, so you can easily access the logs and get all the information you need to monitor your computer users.

The logs created by loginTimer are precise and represent various parameters such as Date (day, month, year), Time, Total logins each day, Admin actions, and Login behavior. Moreover, all the entries are in the English language. The log file is a Ready Only attribute, and as such, one should not manually change/update it.

One of the significant benefits of loginTimer is that it fixes the Y2k38 (2038 Year) problem in 32 bit exe, which can be a significant concern for those who depend on this type of software. The software is also very straightforward to use, and all you need to do is place it in any of your personal folders, other than the Windows system drive, for instance, d:\\my folder\, and activate Run as administrator once.

Furthermore, the software works efficiently on Windows 7/8/10/Server, 32/64 bit, so you won't have to worry about compatibility issues. Overall, loginTimer is an essential tool for those who want to keep their computer users' activities in check. With its efficient logging capabilities, easy-to-use interface, and compatibility with various operating systems, this software is a must-have for anyone who needs to monitor their computer users.
What's New
Version 9.3.8.23: First Y2K38 Technology Discovery
Version 2.3.2.22: Major updates