The MacOS Professional Bulk SMS Software enables the easy delivery of thousands of messages, notifications, and alerts via GSM and Android Technology based mobile phones connected to Macs. Unicode characters are supported for text messages.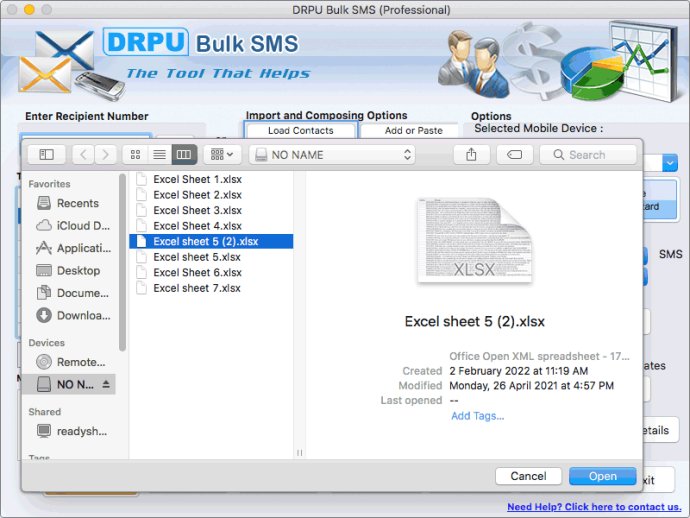 The Mac OS X Group Text Messaging Tool is an excellent software for businesses looking to increase traffic by sending out bulk SMS. With its user-friendly interface, it allows the user to easily import contacts in various ways, such as from txt files, excel files, or adding/pasting numbers manually.

Moreover, the software enables the user to create personalized SMS for every contact, simply by utilizing an excel file format. Additionally, updating messages is effortless with the software's "Update Selected Messages" and "apply to all list items" options.

Sending text messages in different formats, including Unicode characters is also made possible by the tool's "Enable Unicode characters support" feature. With its "Skip Duplicate Numbers" and "Exclusion List Wizard" options, the user can blacklist numbers and eliminate duplicate entries from the recipient list.

To manage the load of bulk SMS transmission, the software offers a "Delayed Delivery" feature, allowing users to pause their message sending process for a specific time limit as they deem fit.

The Mac OS X Group Text Messaging Tool also allows users to save sent text messages as templates, making it easier to send these texts to recipients without any modifications.

In conclusion, the highlighted features of the software include its ability to send messages to single or multiple contact numbers simultaneously while making it simple and convenient for users to maintain contact lists during SMS broadcasting. It's a must-have for any business that aims to maximize its communication and marketing strategies.
What's New
Version 9.2.3.3: Added Support for Latest Mac OS X, MacOS and all other Apple Mac Operating System Updates. Added Support for High DPI resolutions Compatibility. Added new Bulk Text Messaging Technology. Added additional Features to import contacts or messages from Excel Sheets.