MB IChing Tarot links your tarot reading with the applicable I Ching hexagram, providing a thorough portrayal of the qualities of each card linked with the I Ching hexagram outcome. It is an effortless software for turning the mystical guidance of tarot and I Ching into real-life understanding.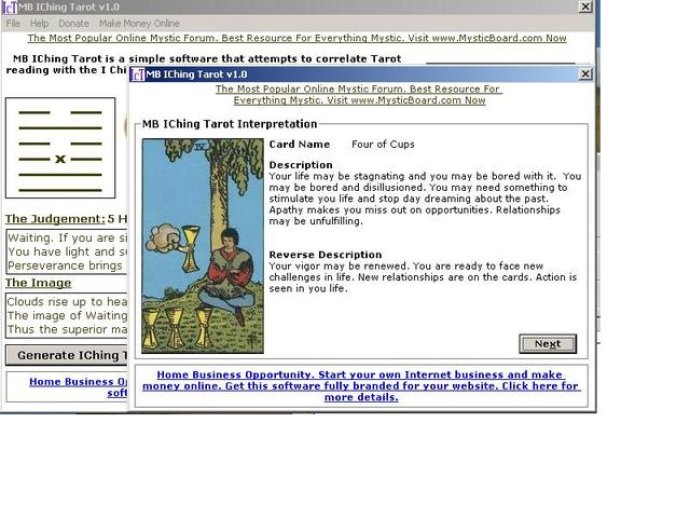 MB IChing Tarot is a software that aims to effortlessly link your tarot reading with the corresponding I Ching hexagram. The software presents a comprehensive detailing of the characteristics of the various tarot cards that are associated with the I Ching hexagram outcomes. The I Ching advocates the concept of change and comprehension of the relationship between opposites, represented by Yang and Yin. In this sense, Yang pertains to the creative, active and expansive force while Yin relates to the receptive, mutable and contracting form. To attain a harmonious connection, both forces need to be balanced.

The visual representation of Yang and Yin denote the unbroken line ( ---------) and the broken line ( ---- ----), respectively. Tarot reading has been an effective tool for people seeking solutions to their personal challenges. It has been a guiding light for people in need of direction, regardless of their circumstances. Tarot cards have been utilized for fortune telling for ages, and continue to maintain a strong following among individuals seeking a connection to the spiritual world.

The most popular and easily understandable deck is the Rider-Waite Deck, comprising of the Major Arcana (22 cards) and Minor Arcana (56 cards). The latter belongs to four suits, namely the wands, cups, pentacles and swords. The Minor Arcana cards aren't just related to the images on the cards but also possess meaningful links to the elements, astrological signs as well as characters of certain alphabets.

Overall, MB IChing Tarot offers a straightforward and accessible approach to linking tarot reading and the corresponding I Ching hexagram outcomes, offering deeper insights into the world of tarot and spiritual guidance.
What's New
Version 1.15: Run time error 13 and application running error corrected.
Version 1.05: The registration module was updated