MCBase is a flexible Music Collection database software, featuring a powerful user report designer. With one-time registration, users can manage their multimedia music collection with free upgrades and add-on products.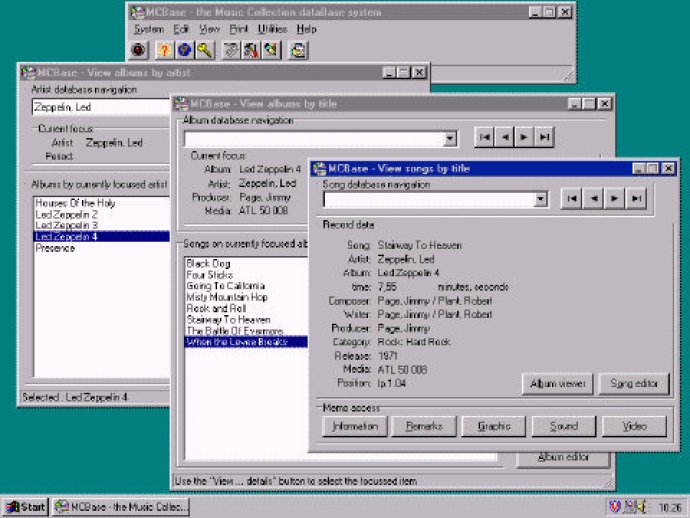 Are you a serious music collector who needs help organizing and maintaining your vast collection? Look no further than MCBase V3.7, the most flexible Music Collection dataBase system on the market.

MCBase not only stores information on your collection, but it can also store multimedia files, including both sound and video clips. With its powerful SQL-enabled user report designer, you can create custom reports for your collection.

MCBase is a relational database system designed to assist music collectors in managing their collections, regardless of the media on which the music is recorded. It strives to support the serious music collector by handling all related graphics, sound, and video clips in various formats.

The primary goal of MCBase is to give users alphabetically organized access to all material in their music collection. Users can store song sound and video clips directly in the appropriate database field, or they can make an inquiry on where an item is located in the collection's storage.

If you're looking for a quick reference guide to finding specific items in your music collection, MCBase allows you to print reports of your data. With the ability to define custom reports, you can query or search your collection in any way you desire.

MCBase uses the Paradox database format, an established industry standard. This means that your data is stored in a transparent manner that is always transferable to other applications. With a one-time registration, MCBase offers free upgrades and add-on products.

In short, MCBase V3.7 is the perfect software for serious music collectors who want to take control of their collections and keep them organized.
What's New
Version 3.7: See Revisions.txt file, enclosed in setup - and on website
Version 3.6: See Revisions.txt file, enclosed in setup.